Only persons in authorized Junkanoo Carnival Company costumes allowed in parade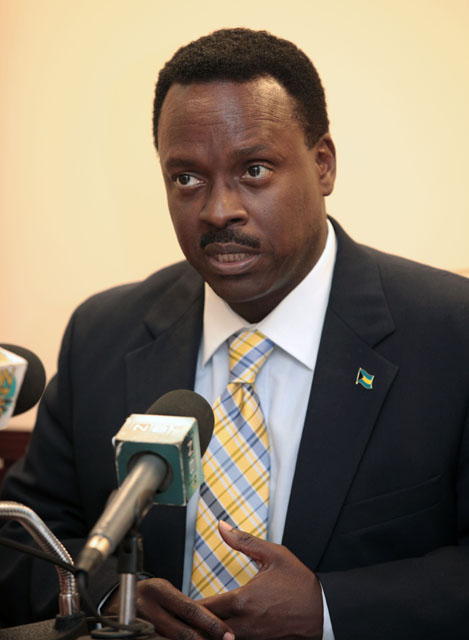 By Inderia Saunder, Bahamas Junkanoo Carnival
NASSAU, Bahamas — The Bahamas National Festival Commission has announced the rules and regulations of the Road Fever event, reinforcing that only persons attired in costumes provided by registered Junkanoo Carnival Companies will be allowed on the route.
Scheduled for May 9th, the Road Fever competition has 28 groups registered to offer packages to the public.
"Only through these Junkanoo Carnival Companies will participants be allowed on the parade," said CEO of the BNFC Roscoe Dames. "And only costumes purchased from one of these companies are authorized for participation.
"It's important that everyone understand this because these groups have to adhere to certain regulations in the designing of their costumes and the incorporation of indigenous Bahamian material. So there will be a consistent theme of all things Bahamian that judges will be looking for on that day. "
President of the Bahamas Carnival Band Owners Association Dario Terrelli said it has been brought to his attention that some businesses around Nassau were selling costumes for the Road Fever event. He said many people were under the impression that they could circumvent the Bahamas Junkanoo Carnival companies all together but still participate in the event.
"We are frustrated that companies are selling costumes and it is not one of the registered companies and we believe it might be taking away from our efforts," he said. "It's not only costumes we are selling, but complete packages.
"To 'Jump in Da Line' you have to be with one of the registered Carnival Companies and because packages include not only costumes but drinks, foods, events etc."
Judging on that day will be done based on a number of areas, including Best Section Costume, Best Application of indigenous material — pre-judged beforehand — and Best Overall Group. The Road Fever event is open to BNFC registered companies and all groups must pass three judging stations on that day, with at least 50 percent of their groups represented at each judging station.
The judging will be done on that very same day of Road Fever, with all tallies to be independently confirmed by Baker Tilly Gomez.
To select a costume from a Junkanoo Carnival company to participate in the event with, visit
www.BahamasJunkanooCarnival. com
, browse through the different costumes under the section, make a selection and proceed to checkout. Once purchased, an invoice number will be given that a customer will use to redeem with the group at a later date.
ABOUT: The first Bahamas Junkanoo Carnival, sponsored by BTC, is a collage of Bahamian culture set for May 7-9, 2015. It is a festive weeklong celebration where Bahamians and guests from around the world are immersed in all things Bahamian in an entertaining and interactive manner. For more information please visit our
www.bahamasjunkanoocarnival. com
, follow us on Twitter @carnivalbahamas, Instagram: Bahamas Junkanoo Carnival and Facebook: Bahamas Carnival.
BTC is the proud title sponsor of Bahamas Junkanoo Carnival. The company has provided $1 million in funding to ensure the success of this national event. BTC has been a long-time supporter of Bahamian culture and arts and believes that this sponsorship will continue to further the evolution and growth of Bahamian culture.