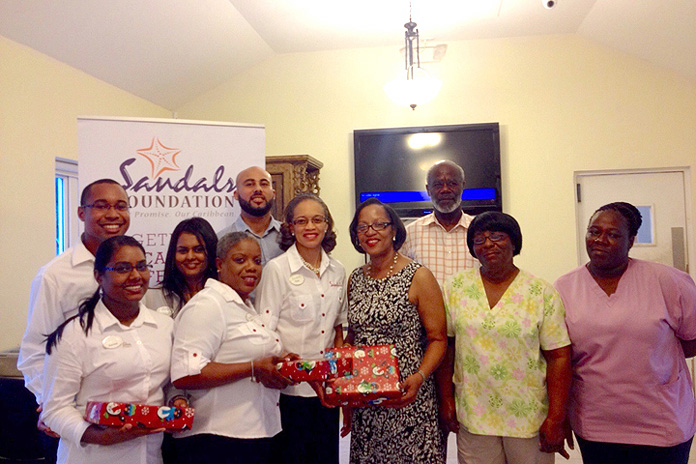 Nassau, Bahamas – Kids from foster homes and schools glowed for Sandals Foundation volunteers this Christmas season when the team delivered their annual Christmas toys and treats.
Move than 300 toys and treats were distributed to the Centre for the Deaf, Gambier Primary School, Children's Emergency Hostel, Elizabeth Estates Home, Ranfurly Home and the AIDS Foundation. Another 600 toys were donated to other charitable organizations, including a drive for the children in islands affected by hurricane Joaquin.
Sandals Foundation threw a huge party for the children of Exuma with loads food, drinks snacks and of course toys. Santa and his elf wowed the children who took the opportunity to take photos of the memorable occasion while receiving their gifts. Guests helped with the gift distribution, while being entertained by different dance troupes from the Exuma schools.
Sandals Foundation and the Hasbro toy company have enjoyed a partnership for several years that has allowed the entities to bring Christmas to children across the Caribbean.
Every year the Sandals Foundation seeks to bring cheer to kids who may not receive a gift for Christmas. The Foundation uses this time of year in particular to share with the nation's young people.
A Elizabeth Estates Home Representative said: "We're so glad you're here because if you didn't come the children would most likely not get anything much for Christmas."
Joy was written across the faces of children as they saw the Foundation Volunteers from Sandals Royal Bahamian arrive in a bus filled with presents for them.
Visiting the Ranfurly Home was especially a treat for the team as they were given a tour of the newly renovated kitchen which was gifted by the Sandals Foundation late last year. This was a vital addition as the kids can now be equally involved in the preparation of meals and learn various culinary skills from the chef at the Home.
The Sandals foundation is exceptionally committed to serving the community in various ways and this endeavor was just one way to show their appreciation for the kids and make their holiday season as fulfilling as possible. Many more visits will be undertaken to the mentioned institutions as well as others in the future with the aim to assist the kids for the upcoming New Year with school reopening.