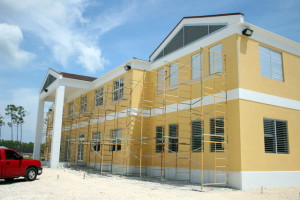 Nassau, Bahamas – The Ministry of Education advises the public that all schools in The Bahamas will reopen on schedule on Monday, 5th September, 2011 with the exception of schools on Cat Island, which still do not have electricity restored or the physical plants are being repaired
The Ministry, in conjunction with the Ministry of Works is making every effort to repair schools in Mayaguana and Acklins that were damaged by Hurricane Irene. The Crooked Island High School will be re-located and operated at a temporary site.
Minister of Education, The Honourable T. Desmond Bannister is appealing to parents, guardians and the general public to cooperate with school administrators as they work diligently to prepare for the return of students after the passing of Hurricane Irene. Minister Bannister noted that there will be some inconveniences but the focus should be on providing the highest standard of education for our children.
The Ministry advises that the status of schools in the various islands is as follows:
MINISTRY OF EDUCATION STATUS OF SCHOOLS OPENING
No
ISLAND
COMMENT
1
GRAND BAHAMA
Schools will open
2
ABACO
Schools will open
3
ELEUTHERA
Schools will open
4
CAT ISLAND
Schools will not open until further notice
5
EXUMA
Schools will open
6
LONG ISLAND
Schools will open
7
SAN SALVADOR
Schools will open
8
RUM CAY
School will open
9
RAGGED ISLAND
School will open
10
ACKLINS

SALINA POINT

Some Schools are being housed at temporary sites.
11
CROOKED ISLAND
The Crooked Island High School will be relocated. Repairs are underway.
12
MAYAGUANA
School will open
13
INAGUA
School will open
14
ANDROS
Schools will open
NEW PROVIDENCE
14
NORTH EASTERN

DISTRICT

Schools will open
15
SOUTH EASTERN

DISTRICT

Schools will open
16
SOUTH WESTERN

DISTRICT

Schools will open
17
LONG ISLAND DISTRICTT
Schools will open
The Ministry will update the public as necessary on any changes to the status of schools opening.