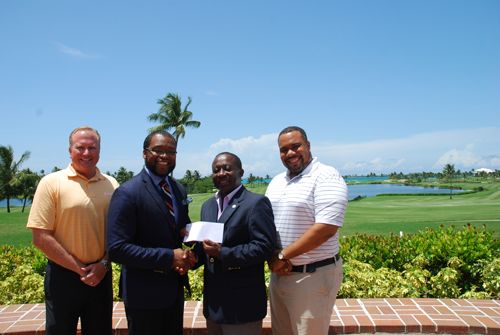 Nassau, The Bahamas – Scotiabank is dedicated to assisting the community. Again this year, the Bank is a bronze sponsor of the 15th Annual Duke of Edinburgh Cup Semi-Finals charity golf tournament in aid of the Governor General's Youth Award ("GGYA").
"We are proud to partner with the Ocean Club and GGYA through our Bright Future program because we know that GGYA is making a positive impact on the lives of young persons in the Bahamian community," said Leah Davis, Senior Manager of Marketing and Public Relations at Scotiabank.
Gregory Stuart, Group Head of Corporate and Commercial Banking and Leroy Dames, Cable Beach Branch Manager are among other Scotiabank affiliates preparing to play in the tournament which is scheduled for Sunday June 28th, 2015 at 8:00 a.m. at The Ocean Club Golf Course, Paradise Island. Dames represented The Bahamas at the Duke of Edinburgh Cup Final in London in 2012.
About the Tournament
"The Duke of Edinburgh Cup Golf Tournament is a yearly pre-Qualifier of the worldwide Duke of Edinburgh Cup World Finals held in England. International winners will travel to the UK to participate in this prestigious Golf tournament being held September 27th – October 1st 2015, competing against other world event finalists at top class clubs near Windsor. Winners will also attend a presentation dinner at Windsor Castle in the presence of a member of the Royal Family." (Atlantis)
About GGYA
"The GGYA was re-established in the Bahamas in 1987, initially known as the "Bahamas Duke Of Edinburgh's Award Scheme", and was re-named the "Governor General's Youth Award" in 1996.
"More than 8,000 young Bahamians have engaged in community service, physical recreation, the apprenticeship of a new skill or hobby, and attended adventurous journeys to achieve their Bronze, Silver and Gold awards." (http://www.bahamasggya.org/home.shtml)