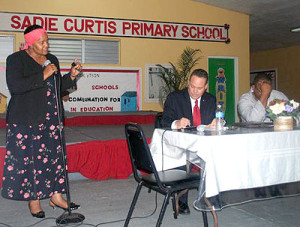 Nassau, Bahamas — With more than 3,000 residents on the current register in the Sea Breeze constituency, the outgoing Member of Parliament for the area, Carl 'Undernourished' Bethel, attracted no more than twenty four concerned citizens at a special called town meeting to discuss the sale of BTC to Cable and Wireless.
The evening was a complete disaster as not one registered resident of the area attended the event.
Bethel sat defeated at the head table setup in courtyard of Sadie Curtis School, looking defeated at the empty chairs as if someone had already taken lunch from a school boy.
Bahamas Press has landed some 30 FIELD MARSHALS in the constituency to make certain Bethel is not only defeated whenever an election is called, but to also make sure he accepts early retirement from active politics!
Early reports in the press noted Bethel attempted to flee the area in hope to avoid a vicious cut_you_know_what from PLP  candidate Hope Strachan. Bethel we were told from FNM insiders, had set his eyes to run in the St. Thomas More constituency, however, Party Leader the Rt. Hon. Hubert Ingraham rejected that request.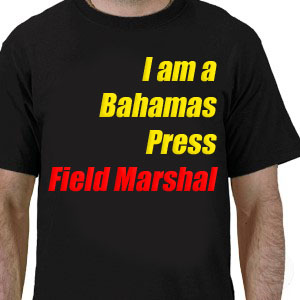 BTC union members made up some 12 persons attending the small setting. The balance we believe were idle persons with nothing to do on a Tuesday night. The remaining empty chairs we could only imagine seated Angelic Beings assessing his political fate, as the thick cloud of fog descended over New Providence last evening.
One former resident told BP, "If I was a relative of Bethel I would not risk getting shot in some schoolyard to listen to that WUTLESS FNM MP. He has failed the constituency, and the children of this country!"
Bethel is still politically nauseated after suffering his public firing from the Cabinet on LIVE ZNS TV 13 while at an historic FNM Convention in Nov. 2009. On Cable TV around the country it was announced by the PM Bethel will resign from the Cabinet of the Bahamas effective immediately. The decision to kick Bethel out of the class as minister of education came after his falling out of grace with Papa.
The axing by Ingraham, coupled with the growing neglect and rundown conditions within the Department of Education, along with the scandalous episodes of alleged rape incidents, especially the one at the once prestigious Queen's College, have all left Bethel a "politically" wounded man.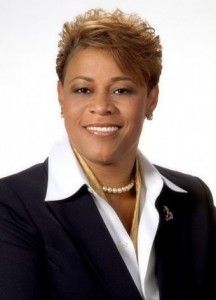 Bethel's political troubles were so severe in 2009 before he canceled the Student Loan Programme and oversaw huge cuts in education; he checked himself into Princess Margaret Hospital to seek "political sympathy". He was later released by doctors after they revealed nothing was wrong with the failed MP, who was then practising his first love; PLAYING GAMES and acting like a JACKASS!
Bahamas Press advises all residents of Sea Breeze to GO AND REGISTER AT THE PARLIAMENTARY REGISTRAR OFFICE. We advise them to note, there is but ONE 'HOPE' FOR SEA BREEZE!
As LEO RYAN PINDER did in the neighbour constituency to the east, so also will C. V. HOPE STRACHAN deliver upon the political backside of Carl Bethel.

The FNM IS GUTTED, PAPA AIN'T RUNNING, AND ELECTIONS WILL BE CALLED EARLY!
WE NEED CHANGE!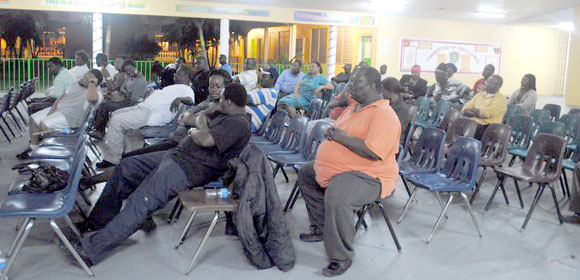 A picture which proves only twenty four [24] SLEEPY persons showed up at an advertised town meeting organized by Carl Bethel last night. Not one registered voter in the constituency showed up.