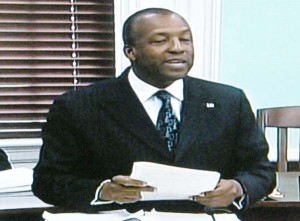 <<< Hon. Alfred Sears in the House of Assembly today.
Nassau, Bahamas: Alfred Sears was once again on the floor of the House of Assembly today. When we see him, we hear and see our message for Bahamians. We see someone who embodies the future of the country. Like Obama he is smart. Like Obama he is articulate. Like Obama he is tall, calm and COOL! Like Obama he was a former professor of LAW, who's sharp ideological scope of politics, LAW and GOVERNMENT is much more focused than the 'brain dead' recycled Ingraham. In him we see a potentially LOUD, OUTSPOKEN future leader of The Bahamas, and YES, WE BELIEVE HE CAN BE JUST THAT MAN WE ARE ALL LOOKING FOR!
Once again as Sears took the floor of the House, 'TALKING SENSE', INGRAHAM ran out of the out House. We keep noticing this, and we wonder why? Why is this OBAMA LIKE figure in our country causes HUBERT Ingraham to run out of the HOUSE Of Assembly everytime he [Sears] stands to his feet? This is something that certainly should make citizens in this country go, hmmmmmm.