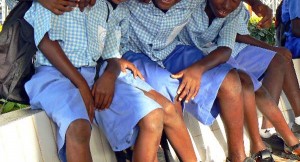 <<< More than 20 young boys are believed to have been molested by GAY ART TEACHER AT EIGHT MILE ROCK HIGH SCHOOL. (file photo)
Eight Mile Rock, Bahamas: The question we all must be asking in this country is, WHO IS PROTECTING OUR CHILDREN FROM REPEATED SEX CRIMES BEING COMMITTED IN THIS BAHAMAS?
Bahamas Press has uncovered the dangerous path young Bahamian students at the Eight Mile Rock High School have endured for the past eight years.
Why, why did not a single faculty member upon knowing the deeds of a colleague at the school, made no attempt stop the brutal rape (physical and emotional) of young boys on that campus?
Why, why did no student come forth after those eight long years, is another question. But yet it happened, under the dark quiet evenings where students within that small community were constantly abused.
Bahamas Press has learned that a male art teacher at the Eight Mile Rock High School for the past eight years have molested over 20 boys at the school, with only two now coming forth to tell their stories of the horror delivered to them by the man they trusted.
A now 19 year-old shaken former student along with members of hs family told his striking story to our agent now still in the community.
"We cannot believe this had happened, and still refuse to believe that others now in Nassau will be put at risk with this same art teacher. We in this country must wake up and protect our kids from these 'perverts' who prey on our children," A family member of the victim told Bahamas Press.
"I was in my last year at the school when Mr. B (name withheld) told me about joining an after school programme funded by the ministry of education (MOE). Well, being a young man with hopes to go to college, I believed at the time that my involvement would have strengthen my chances of getting a scholarship," the young man said.
But as I went with Mr. B in the so-called "MOE AFTER SCHOOL PROGRAMME", I discovered that my teacher really had set me up in the name of the MOE. And used his position as an educator to lure me, and what I now know to be many others, into a WICKED SEX PLOT!
"He took me to his home one evening, and when we got their no one was there. He proceeded to talk, and after an hour of seeing no one there I wanted to go home. It was then that he began making sexual advances at me to which I felt even more uncomfortable and rejected," the young man told Bahamas Press.
Bahamas Press can now confirm that the teacher used his position to lure scores of under aged young men, whose family showed a non-active role in their lives. One of the young men we can confirmed was such a favourite of the art teacher, that he bought braces for the young man and when asked how did he got them a response was, "the government (MOE) had paid for the braces."
In a report on in the national media, another mother said that the teacher (Mr. B.) had come to her home apologizing to her for what he had done to her son. That other former student and victim, now 19 years old and is HIV positive.
"I have heard that that classmate was also taken by Mr. B's home also. We are both in set and he was in several of my classes. Another student told me that Mr. B often took him to his home, where he asked him to strip off his clothes and Mr. B took nude photos of him.
"I also know that (the 19 year-old with HIV) said how Mr. B. brought his older friends over occasionally to have group sex with him. It is believed that this is possibly how the young man contracted the HIV virus, and could possibly be the reason why the teacher went to his mother's home pleading that he (the art teacher) is HIV negative." The former student said.
As if Grand Bahama had not had its share of sex crimes against young boys, this latest story speaks volumes of the horror now challenging our school system on that island. We all have heard the story of the five missing boys. We all know the story of the sex by a female teacher once stationed at the C. V. Bethel High School in Nassau. We know of the CRIME that was committed at Queen's College last year, but still Police would only parade the names of those associated with other crimes, whilst this constant SEX CRIME attack on children continues in our educational system, and we wonder why?
Bahamas Press will reveal the name of this educator soon. You now know he is an ART teacher once stationed at the Eight Mile Rock High School on Grand Bahama, and know that he has committed a Crime of producing Child Pornography, and committing Statutory RAPE!
Today two more young men have stepped forward with their families to tell their story to the media and Ministry of Education officials. We will await the verdict by that authority, however we ask;
What does the Minister of Education say about this incident?
What does Belinda Wilson say about this WICKED EDUCATOR she serves? And will she also move for him to be removed?
WHAT WILL THE POLICE DO NOW THAT STUDENTS HAVE COME TO REPORT THIS CRIME AGAINST THEM?
Bahamas Press believes that if the MOE is not forthcoming as to where this teacher now stationed, WE THE PEOPLE SHOULD WITHDRAW EVERY CHILD FROM THE CLASSROOMS OF THIS COUNTRY UNTIL THAT IS KNOWN!
We the people WANT THIS MAN OUT OF OUR SYSTEM IMMEDIATELY!

LORD WE NEED CHANGE!!!!!!!!!!!!!!!!!!!