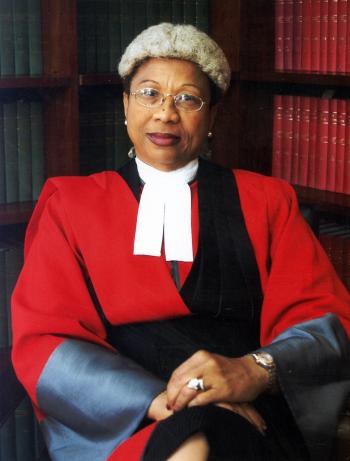 <<< Senior Justice Anita Allen, BP HERO OF THE WEEK!
Nassau, Bahamas: Senior Justice Anita Allen reignited our trust in the Bahamian judicial system this past week when she made a ruling calling out one of her follow justices as having a, "More than a friendly" relationship with a sister of an accountant appoint in a case before the Supreme Court.
Senior Justice John Lyons in her ruling was said to be having that more than friendly affair with the sister of that accountant, who is also a former track star. The sister was also on the staff of the court appointed accountant which charged $2.5 million in accounting fees in a matter before the court. Daniel Ferguson being that accountant, was not a qualified forensic accountant, which meant that his appointment was done clearly by of association. WHAT UTTER CORRUPTION!
This whole incident raises even more question. WHY HAS JUSTICE JOHN LYONS NOT REFUTED THE RULING OF JUSTICE ALLEN? And knowing that his "More than friendly" partner was also on the payroll of her brother, was Justice Lyons also to benefit from those payments to Ferguson? And with Justice Lyons silence over the matter now giving consent to the ruling, should he not step down from the High Court? We think it is OVER DUE!
Justice Lyons was the sitting Judge who in a ruling under the Christie administration threaten to withdraw his services if the government failed to review salaries paid to judges. The review of judges compensation had expired at the time.
All we say is this, in every system there are bad apples, but OHHHHHHH SENIOR JUSTICE Allen your a SHINING EXAMPLE OF WHAT A REAL CHIEF JUSTICE SHOULD BE! WE ARE PROUD OF YOU! And we salute you, all 150,000 daily readers of this blog, as our HERO OF THE WEEK!