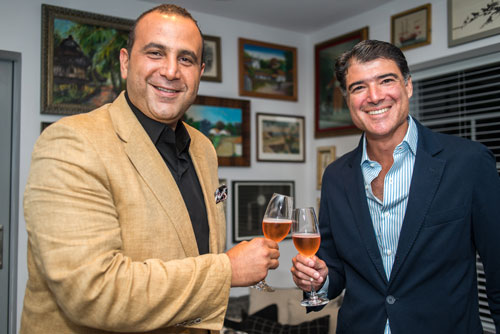 NASSAU, The Bahamas – Baha Mar, the $3.5 billion integrated destination gaming resort, and SLS Hotels today announced the signing of a management agreement that will bring SLS Hotels' distinctive service, style and sophistication to Baha Mar's 300-room luxury lifestyle hotel, including its 107 residences. SLS at Baha Mar will be the brand's first international venture, and will complement SLS' soon-to-open hotels and resorts in Las Vegas, New York, Philadelphia, Seattle, Brickell, Miami and China, as well as its signature hotels in Beverly Hills, California and Miami Beach, Florida.
The award-winning SLS Hotels, a division of global hospitality company sbe, joins Baha Mar's portfolio of world-class hotels, including Rosewood, Grand Hyatt and the Baha Mar Casino & Hotel, which will cater to an array of upscale international guests.  The 20-year management agreement will bring the expertise of Sam Nazarian, Founder, Chairman and Chief Executive Officer of sbe, to the lifestyle property's hotel, restaurants and nightlife. Coming off of the success of its partnership with Related Florida in developing and selling the residences at SLS Brickell, SLS LUX Brickell and Hyde Hotels and Residences, sbe's ability to seamlessly blend hospitality and residential lends itself very well to the SLS Residences at Baha Mar. SLS Hotel at Baha Mar will make its debut at the scheduled December 2014 opening of Baha Mar.
"SLS will bring a spark of creativity and fun that fits in brilliantly with Baha Mar's distinctive array of brands and partners," said Sarkis D. Izmirlian, Baha Mar's Chairman and Chief Executive Officer. "Sam Nazarian's ability to be ahead of market trends has differentiated his eclectic hotels, nightlife, restaurants and cutting-edge design and will bring a truly unique experience to Baha Mar guests. Also, the company's experience in creating, selling and managing luxury real estate properties will bring additional value to the SLS Residences at Baha Mar."
Sam Nazarian said, "SLS at Baha Mar represents a collaboration of best-in-class hospitality partners led by Sarkis' unbelievable vision, and is a perfect fit with our core strategy of developing and managing luxury lifestyle hotels and residences aimed at higher-end leisure and business travelers. Baha Mar's stunning beach location and fully integrated master plan make it a breathtaking destination for sbe's global clientele, both for lifestyle entertainment and for an unrivaled residential experience."
Tom Dunlap, Baha Mar's president, noted that SLS' award-winning hotels, restaurant and entertainment brands, including Cleo, with Danny Elmaleh's perfect execution of Mediterranean cuisine, Japanese-fusion restaurant Katsuya by Starck and the Hyde Lounge nightclub, have built a singular, upscale profile for the company. "SLS guests are exactly the kind of guests that will be attracted to Baha Mar: affluent, sophisticated, fun," Dunlap said. "They live and play in the markets we most want to attract: Miami, Las Vegas, Latin America. We are thrilled to welcome SLS to Baha Mar."
Baha Mar, featuring an innovative integrated design by architect Mike Hong, will offer upscale hotels, a state-of-the-art casino, luxury shopping, fine dining, nightlife, outdoor adventures, art galleries, golf, tennis and wellness experiences to compete with the best the world has to offer. Its high-profile partners include a host of outstanding names such as golf legend Jack Nicklaus; ESPA Spa at Baha Mar; and Kravitz Design, the firm led by Grammy Award-winning performing artist, actor and designer Lenny Kravitz. Kravitz Design has also designed for SLS South Beach and SLS Las Vegas.
About Baha Mar
Baha Mar, which is scheduled to open in December 2014, is set on 3,000 feet of white-sand beach just ten minutes from Nassau's newly expanded Lynden Pindling International Airport.  This must-visit destination will feature an elite collection of hotel brands with gaming, entertainment, private residences, shopping and natural attractions that reflect an authentic Bahamian experience. The Baha Mar Casino & Hotel, with 1,000 rooms, is the centerpiece of the resort, and includes a 100,000-square-foot Las Vegas-style casino – the largest in the Caribbean region. Baha Mar also will include a 707-room Grand Hyatt at Baha Mar, a 300-room SLS at Baha Mar, and a 200-room Rosewood at Baha Mar. Upon completion of extensive renovations, the 694-room Meliá will join Baha Mar and complete the extraordinary accommodations at the luxury resort.
Amenities will include the 18-hole, 72-par championship Jack Nicklaus Signature Golf Course at Baha Mar; 200,000 square feet of combined, flexible, state-of-the-art convention facilities including a 2,000-seat performing arts center and an art gallery with the largest curated collection of Bahamian art in The Bahamas; 40 restaurants and bars; two spas, including the 30,000-square-foot destination spa, ESPA at Baha Mar; designer retail boutiques and 20 acres of exquisitely landscaped beach and pool experiences, including a beachfront sanctuary with native Bahamian flora and fauna, as well as a water eco-park. For more information, please visit www.bahamar.com
About SLS Hotels
The brainchild of Sam Nazarian, SLS Hotels has created a new paradigm in the luxury hotel experience that speaks to a global, sophisticated audience. Taking service and luxury standards from traditional 5-Star hotels and injecting elements of creativity and community, SLS delivers a guest experience that seamlessly delivers service, style and fun. SLS Hotels are currently open in Beverly Hills and South Beach and coming to Las Vegas in 2014 and New York in 2015. The company is privately owned by sbe.
About sbe
sbe is a global hospitality company that develops, manages and operates award-winning hotels, restaurants and nightlife. Through exclusive partnerships with cultural visionaries, sbe is dedicated to delivering the best in design, culinary and entertainment. Already a proven leader in the hospitality and real estate industries, sbe has over 80 properties currently operating or in development, and has expanded several of its flagship brands including SLS Hotels, Katsuya by Starck, The Bazaar by José Andrés and Hyde Lounge nationally and internationally. Founded in 2002 by Chairman and CEO Sam Nazarian, sbe is a privately held company. More information about sbe can be obtained at sbe.com, or by downloading the sbe App.