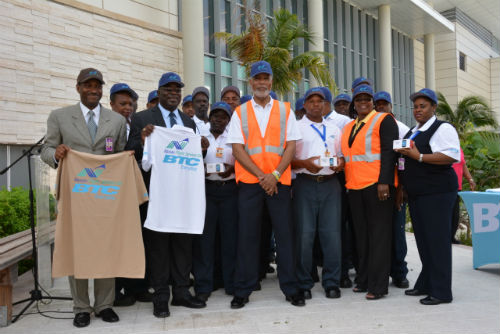 Nassau, Bahamas – Porters and Ramp workers at the Lynden Pindling International Airport are now wearing smart new uniforms sporting the distinctive Bahamas Telecommunications Company, (BTC) brand logo and tag, 'BTC Everyday.' BTC provided the uniforms to Nassau Flight Services and an Alacatel Pop C2 cell phone along with $50 phone cards for each of the 125 employees. BTC also brightened up and branded the Nassau Flight Services employee bus.
BTC CEO Leon Williams spoke at the airport presentation calling the Porters goodwill tourism ambassadors for the country.
"Our visitors and our locals alike are welcomed every day, by a group of men and women, who provide assistance, and make our arrivals or departures that much more memorable. These group of individuals are the airports porters and ramp workers that go above and beyond the call of duty every single day. As they are goodwill ambassadors for the country, they will likewise be goodwill ambassadors for BTC. And taking it just a notch up, BTC has also branded the Nassau Flight Service's employee shuttle bus which provides transportation for employees to get to and from work at LPIA. And in true BTC style, all 125 porters will receive a smart phone."
Mr. Williams reiterated his company's commitment to the community.
"BTC remains a company deeply entrenched in our commitment to community. Over the last few years, we have expanded our reach and presence, investing in neighborhood stores throughout the country. We have also spread our sponsorships and donations to a myriad of youth, sports and community initiatives. Just recently we partnered with the National Sports Authority as a title sponsor of High School Nationals. In another three weeks, we will sponsor CARIFTA Track & Field and swim events. In May BTC will be the $1m title sponsor of Bahamas Junkanoo Carnival, and we will sponsor the IAAF World Relays.
At the end of May, our ten Scholarship Students at the College of the Bahamas would have completed their second year towards their Bachelor degrees.
"These are just a drop in the bucket, in comparison to what we have been doing in the community, just this year alone. As a concerned corporate citizen, we continue to do our part, to inspire meaningful change, for the betterment of The Bahamas.
Mr. Williams closed with a thank you: "I would like to thank the management of Nassau Flight Services, and also the team members – we say welcome to BTC! And, as I would always say, BTC done, done it, again!"
BTC is the national leader in communications services. The Company offers a full suite of landline, broadband and mobile solutions for residential and enterprise customers. The Company launched the 'Upgrade Bahamas' initiative in November 2014, where $65M in capital expenditure is being deployed in the Company's networks.