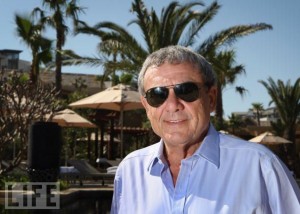 PARADISE ISLAND, The Bahamas – Today, Kerzner's passion for hospitality was recognized by Her Majesty Queen Elizabeth II by confirming that Sol Kerzner was invested with the insignia of Knight Commander of the Most Distinguished Order of St. Michael and St. George (KCMG) for his outstanding and exemplary contribution in the area of business and community in the Bahamas. This highest honour was awarded in the annual Queen's Birthday Honours list for 2010.
"Sol's enterprising spirit and boundless imagination are evident in the spectacular properties that he and his team have created in markets around the world"
"I am truly humbled and most honored by these recent accolades," says Sol Kerzner. "I would not be here today without the hard work and dedication of our people around the world. While I feel proud of all we have accomplished, there is still much more work to be done and we look forward to reinventing the hospitality experience yet again in the next decade."
With the opening of his latest resort, One&Only The Palm, Dubai, in November and the launches of Atlantis The Palm, One&Only Cape Town and most recently, the Mazagan Beach Resort in Morocco, Kerzner has continued to successfully grow during the two challenging years of the global recession.
Kerzner operates the successful 3,500-room Atlantis, Paradise Island, Bahamas and the 1,500-room Atlantis, The Palm, Dubai. Kerzner also operates some of the top-rated luxury resort properties in the world, under the One&Only brand, which are located in The Bahamas, Mexico, Mauritius, Maldives, South Africa and Dubai.
Last week, Sol accepted the ILTM/UltraTravel Lifetime Achievement award in Cannes for his life-long service and dedication to international travel. In February 2010, Kerzner was awarded the Hospitality Sales and Marketing Association International Albert E. Koehl Lifetime Achievement Award for his contributions to advertising and marketing in the hospitality industry. Kerzner was also lauded for his humanitarian achievements outside the travel arena with two distinguished awards from both sides of the pond. Kerzner's dedication to helping raise over £200 million for sick, disabled and disadvantaged children was acknowledged by The Variety Club Children's Charity in London honoring him with their May 2010 19th Annual Lifetime Achievement Award. In June, Kerzner accepted Cornell's 2010 Hospitality Innovator of the Year Award, given annually by the Leland C. and Mary M. Pillsbury Institute for Hospitality Entrepreneurship at Cornell University's School of Hotel Administration.
"Sol's enterprising spirit and boundless imagination are evident in the spectacular properties that he and his team have created in markets around the world," said Tom Ward, Managing Director of the Pillsbury Institute during the awards dinner in New York. "From urban settings to remote islands, Sol has put a uniquely distinctive imprint on our industry."