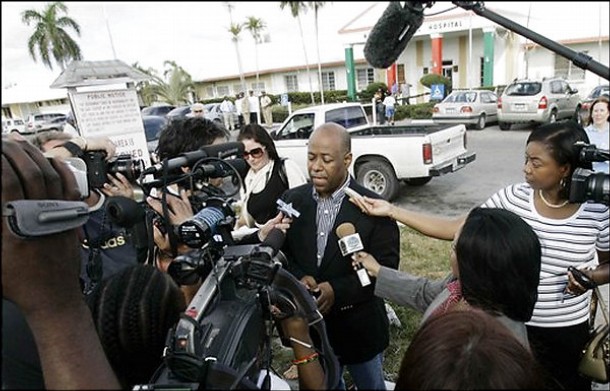 Obie Wilchcombe was in the cold last night in West End telling residents how he almost went to jail for a second time. His business partner was charged on last week before the courts. But in that entire episode Bahamas Press still believes 'THE SNITCH' played some role in this latest PLP saga, WE ARE CONVINCED OF THAT!

But what angered us was the fact that the man had the nerve to call a rally. Why could not Obie call a rally for Grand Bahamians when thousands lost their jobs at hotels on that island? Why could not Obie call a rally when Royal Oasis workers got the boot? How is it Obie could not call a rally for Bimini residents when workers were dismissed at Bimini Bay last summer? And how is it he could not call a rally in Bimini when homeowners electrical supply were turned off, including two old pensioners last summer? Did not the people make their protest against BEC without their MP?
The problem here is clear, OBIE only wants speak to people, when the problem engulfs him. But to hell with the locals! For some time now we at Bahamas Press have warned members of the Progressive Liberal Party about this SNITCH and have called on them to rid themselves of this SNITCH inside their organization. But what have they done? NOTHING!
But now Obie wants to talk to people, and hold a rally in the process? Someone needs to tell this old 'SLICK WILLIE' to go sit his skin down and get his political bags packing. Because even if PERRY CHRISTIE wants him to run again, those ON THE GROUND IN WEST END AND BIMINI HAVE ONE WORD FOR HIM, RESIGN! "OBIE, YOUR POLITICAL DAYS ARE NUMBERED!"

Come next election WEST END AND BIMINI voting for CHANGE! So go sit down, ole SNITCH!