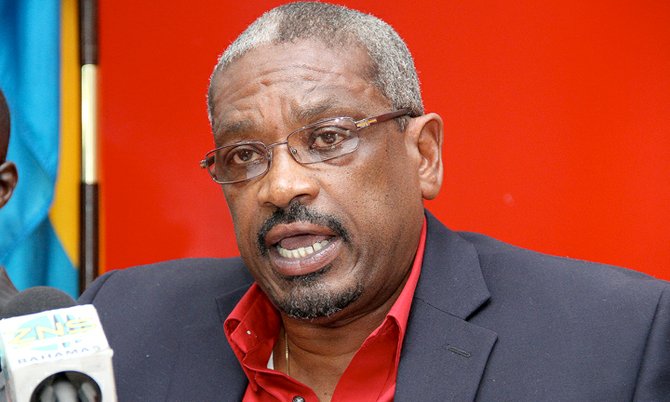 NASSAU, The Bahamas – Residents of the Southern Bahamas were urged Tuesday (September 18) to begin their hurricane preparations as there is a chance that they could experience some effects of Hurricane Maria within the next 60 hours.
Hurricane Maria was a dangerous Category 5 storm as of Tuesday afternoon with maximum sustained winds of 160 miles per hour.
The ferocious storm caused extensive devastation in Dominica. Initial reports coming out of Dominica are of "widespread devastation." Landslides, triggered by persistent rain, also caused extensive damage in Dominica.
Prime Minister, Dr. the Hon. Hubert A. Minnis who said his Administration was still awaiting confirmed reports of the impact of Hurricane Maria on Dominica and Martinique, Tuesday evening urged Bahamians and residents of The Bahamas, particularly those in the Southern Bahamas, not to let their guards down ahead of the approaching Maria.
"Though most of The Bahamas was spared the devastation of Hurricane Irma, it is essential that the country remains vigilant and prepared. We cannot let our guard down," Prime Minister Minnis said.
"Hurricane Maria is another potentially devastating hurricane that we must carefully monitor," Prime Minister Minnis continued.
"These major storms carry the potential for the loss of life and catastrophic damage as we have seen with Hurricane Irma which ravaged some of our southern Caribbean neighbours, parts of Florida, Ragged Island and Acklins, and caused extensive damage to Bimini and parts of Grand Bahama."
The latest track for Hurricane Maria provided by The Bahamas Department of Meteorology has the storm passing just to the east of the Southeast Bahamas on Friday morning as a major Category 3 or 4 storm.
As of 5:00 p.m. Tuesday (September 18), Maria was located 685 miles southeast of Matthew Town, Inagua, and 1,000 miles southeast of New Providence.
A Hurricane Alert was issued for the Turks and Caicos Islands and the Southeast Bahamas at noon Tuesday. These include the islands of Mayaguana, Inagua, Crooked Island, Acklins, Long Cay and Samana Cay.
Prime Minister Minnis used Live radio, television, Live Stream and other Social Media to get his message of preparedness out to Bahamians and residents.
"The Government of The Bahamas would be negligent if it did not warn in advance and in a timely manner of the threat of hurricanes in our archipelago, including potentially catastrophic super storms.
"As the hurricane season continues, I advise Bahamians and residents to keep shutters in a convenient place, ensure that important documents are in a secure place and properly packaged in the event you are required to move quickly and to keep an overnight bag with clothing and toiletries in the event an evacuation order is issued.
"I also advise that you continue to trim trees and remove all debris which may become a hazard due to heavy winds. Those living in coastal areas should be prepared to relocate. Take extra precautionary measures," Prime Minister Minnis added.