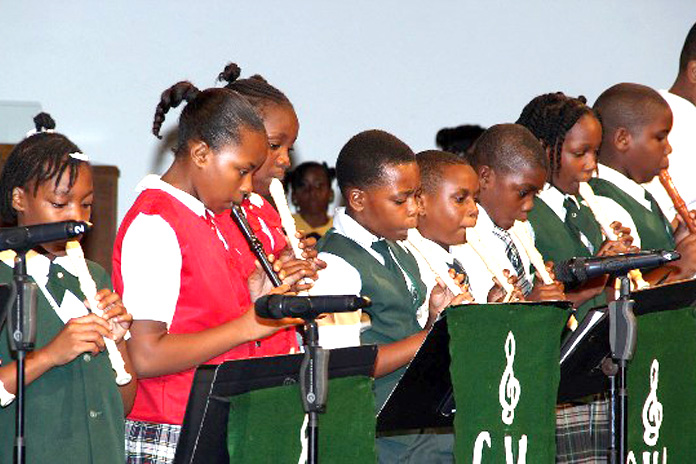 NASSAU, Bahamas – Hundreds of students representing public and private schools from throughout New Providence welcomed the yuletide season and celebrated the Savior's birth with music, dance, prayers and scripture readings at the Festival of Carols, Wednesday, December 2.
The annual event, a tradition of the Ministry of Education, Science and Technology was held at Evangelistic Temple, Collins Avenue. Deputy to the Governor-General Dr. Gail Saunders led the list of Government officials at the service. Also in attendance were education directors, deputy directors, principals, administrators, teachers and parents. The event was organized by a committee chaired by Jennifer Miller, senior education officer and Shenique Collie-Sweeting, education officer. The theme for the event was "Jesus Our Lord and Saviour."
The students' display of talents kept the children and teachers on the edge of their seats with enthusiastic and prolonged responses. Show-stoppers included C.V. Bethel Sr. High boys' jazz selection, St. Anne's Anglican School's rendition of the Hallelujah Chorus, a combined hand bell selection by Doris Johnson and Government High Schools, Uriah McPhee Primary School's steel pan medley and a combined junior and senior high school choir selection written and directed Lorenz Burrows.
In his greetings, Lionel Sands Director of Education said the performances demonstrate that all is "not lost" with young people because there are many "good" things happening in schools. He remarked that the "sad" truth is that the negatives that are done by the few are highlighted, however the many "positives" in the performances by the children represent the "positives" in schools and in The Bahamas.
"There are many who do not know the true meaning of the season. Sadly for many people in our country Christmas is a time of Santa spending, gluttony and greed. Many are saddened and stressed out about the money they don't have to buy presents for their children, family and friends. Some would go to extreme irresponsibility and maybe even immoral lengths this holiday to participate in traditions that have very little to do with the true meaning of Christmas.
Yet, Christmas should be a season of great joy if we remember who and what it is about," said Mr. Sands.
The Director pointed out that the event's theme highlights who is the "true" star of the show.
"When we remember that Jesus is our Lord and Saviour then we remember the true meaning of Christmas is love. As we all know our nation is in desperate need of love this season," he added.
Mr. Sands called on the educators and students to continue to celebrate Christmas for what it really is by loving each other and volunteering service that would make someone else's life more cheerful this Christmas. (BIS Photos/Letisha Henderson)