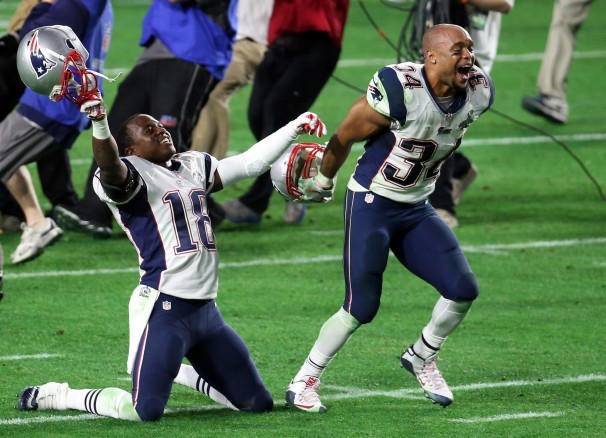 GLENDALE, Ariz. — The New England Patriots faced a 10-point deficit in the fourth quarter against one of the most imposing defenses in recent NFL memory. They weren't fazed.
Their own defense was backed up to the shadow of its goal line as the Seattle Seahawks marched resolutely to within a yard of a game-winning touchdown in the final seconds of a memorably great and competitive Super Bowl. No matter.
The Patriots shrugged all of that off. They got a pair of fourth-quarter touchdown passes by ever-more-legendary quarterback Tom Brady and a game-saving interception by rookie cornerback Malcolm Butler to beat the Seahawks, 28-24, here Sunday evening.
"We needed a great play at the end," Brady said, "and we got it."
The Patriots secured their fourth Super Bowl title with Brady as their quarterback and Bill Belichick as their coach, and they did so in about the most dramatic fashion imaginable. They trailed, 24-14, until Brady's touchdown passes of four yards to wide receiver Danny Amendola with just less than eight minutes remaining and of three yards to wideout Julian Edelman with just more than two minutes left.
"Tom's the best ever. . . . He's been to six Super Bowls," Edelman said. "He's won four with the salary cap. It's hard to argue against that."
The Seahawks, trying for a second straight Super Bowl title, drove to the New England 1-yard line, aided by a remarkable juggling reception by wide receiver Jermaine Kearse while he was on the turf. But Butler, the defender victimized by Kearse's catch, cut in front of wideout Ricardo Lockette to intercept a pass by quarterback Russell Wilson with 20 seconds to go.
"I thought it was a touchdown, honestly," said Wilson, who called it an "unfortunate situation" and added: "We played lights out, for the most part. We fought so hard. You've got to give the Patriots credit."
The Seahawks opted against handing the ball to hard-running tailback Marshawn Lynch on the decisive play. Coach Pete Carroll said his team planned to run the ball on the following play but did not have the proper personnel grouping on the field to run it on that play against New England's goal-line defense.