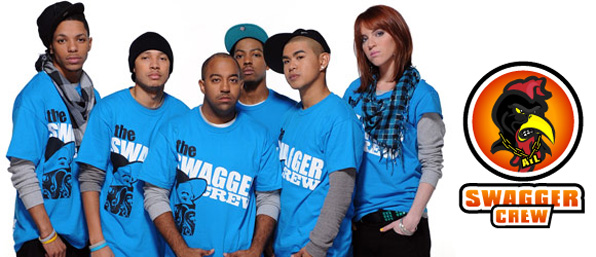 The Swagger Crew from Atlanta, Georgia, will be the featured artists representing the United States of America at the 15th annual International Cultural Festival (ICF) to be held at the Botanical Gardens in New Providence, October 16 – 17.  Under the USA's theme, "Many Americans, One America," the five member dynamic dance group will perform the latest in hip-hop dancing and give live dance demonstrations and master classes on site at the USA Pavilion.  Visitors at ICF will have the opportunity to see Swagger Crew perform at the USA Pavilion on the North lawn on Saturday, October 16 at 12:00 noon, 2:00 p.m., 4:00 p.m. and 6:00 p.m.  The group will perform on Sunday, October 17 at 12:00 noon, 2:00 p.m. and 5:00 p.m.  Main stage performances are scheduled on Saturday at 4:45 p.m., and Sunday at 3:30 p.m.
Swagger Crew was established in 2007 when Jason Croom and Allan Skeene got tired of Atlanta not having a strong professional crew to represent that part of the Southern United States.  Together they formed Swagger Crew to create an unmovable presence in the South and put true Southern street dancing on the map.  Swagger wanted to form a crew that would showcase all styles and break the stereotype that the South only does high energy dance with NO creativity.
Swagger Crew has achieved individual success as professional dancers in Atlanta as back up dancers for Ludacris, Trey Songz, Charlie Wilson, Lloyd, Cherish, Donna Summers, Fergie, Genuine and Keri Hilson.   Swagger Crew has performed at the BET Hip Hop music Awards and the 2009 Soul Train Awards.  The group won first place in FSA's Culture Shock (2008) and first place at FSA's biggest competition of the year Def Talent Jam (2007 & 2009).
Through Swagger's example, the diverse group strives to inspire people all around the world to think outside the box, to follow your passion and never give up on your dreams. "If you don't quit, you can never lose!" is the motto Swagger lives by.  For more information on Swagger Crew visit:  http://theswaggercrew.com/ .
Additional attractions at the USA Pavilion include a video corner depicting the diversity of the United States through beautiful scenery, places and faces.  Booths  include, Sweets and Treats, Buy The Book, Hawaiian Ice, American Beer, Seahorse Face Painting, Coca Cola, live mascot performances by Spider Man and Dora, and a creativity garden for children to use their imagination and have fun.
The International Cultural Festival was originally conceived to recognize United Nations Day. The Festival fosters friendly relations and understanding between Bahamians and the international resident community.  The high quality organic experience that emerged from members of the community has become an international signature event that serves to demonstrate just how diverse and cosmopolitan The Bahamas has become.  For more information on the International Cultural Festival visit: http://culturefestbahamas.com/.