Christie Gov't is moving quickly to make Children Safe in Schools across the country…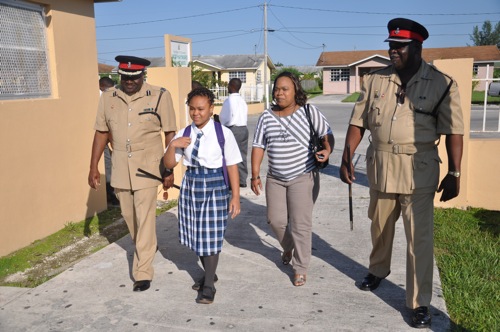 FREEPORT, GB– Both the Minister for Education, the Hon. Jerome Fitzgerald, and Minister for Grand Bahama, the Hon. Dr. Michael Darville agrees that the newly relocated Lewis Yard Primary School with be a modern state of the art school.
The two Cabinet Ministers touched on the relocation of the campus from its site at Lewis Yard, to the old St. Vincent De Paul School in Hunters.
Since becoming Minister of Education back in May, Minister Fitzgerald moved quickly to remove teachers and students from the old Lewis Yard campus. In recent years the school had to shut down early on a number of occasions due to strong odours coming from the neighbouring industrial park area.
On Monday night, while attending the official launch of the Petroleum Products and Measure Course Pilot Programme at Pelican Bay, Minister Darville used the occasion to publicly thank the Minister for Education Science and Technology for his efforts, and likewise acknowledge the support of BORCO in relocation process.
Minister Fitzgerald had mentioned a contribution of $102,000 by the Grand Bahama Port Authority for repairs to the St Vincent De Paul School to accommodate the Lewis Yard Primary School students.
The Bahamas Oil Refining Company (BORCO) is donating in excess of $100,000 in the form of computers, printers, desks, chairs and other related supplies.
Both Minister Darville and Mr. Fitzgerald walked the school campus Monday and expressed much satisfaction with the modern improvement to the institution.
Elsewhere, the Education Minister pointed out that his Ministry spent almost $1,030,672.00 to improve the access to education on Grand Bahama for the new school year.
Additionally, in Grand Bahama he pointed out that that a number of initiatives were accomplished in time for the September 2012 school opening.
These included the reintegration of Jack Hayward Junior and Senior High Schools; Freetown Primary has been designated the Pre School for East Grand Bahama; High Rock Primary will now be used as the central location for primary students in the settlements of Freetown and McLeans Town; and the McLeans Town School has been elevated to a Secondary School, beginning with seventh grade students.