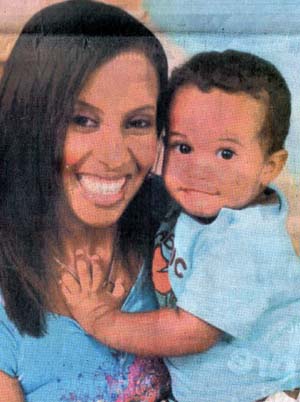 Nassau, Bahamas — Bahamas Press reports the continued troubling collapse of the Criminal Justice System of the Bahamas by the release of another man charged for murder.
Justice Jon Isaacs yesterday released another man on bail for the shooting death of Tagia Soles-Armory. The was also charged for endangering the life of the three years old son of the victim, Zen Armony.
Now readers would remember this was the murder of the years back in 2009. Tagia has just returned home with her Caribbean husband on a visit to the islands with relatives. She was sitting in her car nursing her baby, when it is alleged the accused came up to her and shot her in the lung.
With her child screaming at her side, Tagia attempted to flee the scene, but later drown in her own blood as he made her get-a-way.
A young man by the name of, Valentino Hanna Dorsette, better known by his street name "BALLISTIC", is accused of having committed the murder, and like many others; accused for the most heinous act, was released on a $30,000 bail.
As Isaacs delivered the bail hearing, he ordered the accused to be fitted with the ankle bracelet and was free to go. WOW! WHAT A COUNTRY!
Meanwhile police shot and killed a man in Black Village last night following a hot chase into that community.
According to eyewitnesses, police began chase of two men along with a woman into the area around 11:40PM. Gunshots were fired, which resulted with the death of one of the men. The woman was also shot. The third suspect fled the scene on foot.