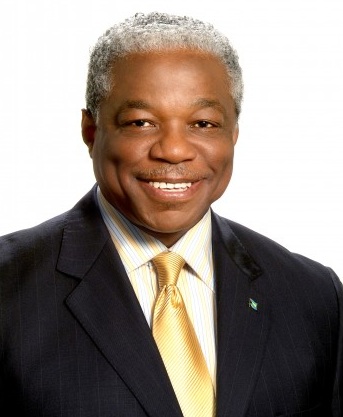 <<< Bernard J. Nottage, Candidate for Leader of the PLP!
Yes the day has finally come! This Thursday at 11AM at the Bain & Grants Town Headquarters on Meadow Street, the Hon. Bernard J. Nottage will declare his candidacy for the Leadership of the Progressive Liberal Party.
Since last year, Bahamas Press has reminded its readers that something BIG was coming! Since last year we said Change is on the way here in the country. We were scoffed, mocked and laughed at. Well, the time has come.
Readers would remember BJ was the member of the PLP who orchestrated Christie's return back to the PLP prior to the 1998 Party Convention! He helped Christie re-enter the Party and saw Christie's election at the head of the organization. Today, BJ will along with Paul Moss and Fred Mitchell form what BP describes as the horsemen of the APOCALYPSE. They shall together topple Christie as leader of the Progressive Liberal Party, and force the CHANGE needed in the country! When the dust is all settled we believe the next government of the PLP will have BJ, BRAVE and Bradley as the face of the NEXT PLP! MAN OH MAN WHAT A TEAM!
The PLP needs serious leaders! The PLP needs men who Don't Play, that don't pussyfoot around. They need a team that will tell the FNM goodbye and not be silent on issue after issue. Men who don't shuffle and dance and talk you know what! THERE IS NO TIME – to borrow a line – FOR 'COTTON CANDY POLITICS, FLOWERY WORDS AND SMOKE SCREENS! The People of this country wants CHANGE and as we've said over and over, CHANGE IS COMING!
Dr. Bernard "BJ" Nottage was born in Nassau on October 23rd, 1945 to the late Olevia Nottage.
He received his training as a gynecologist at the University of Aberdeen, Scotland and The Royal College of Obstetricians and Gynecologist.
An outstanding athlete in track and field, BJ Nottage was also a long time president of the Bahamas Amateur Athletics Association (BAAA).
Dr. Nottage served in the Cabinet of the late Sir Lynden Oscar Pindling and was also co-deputy leader of the Progressive Liberal Party. Dr. Nottage was elected CEO of the Coalition for Democratic Reform from February 2000 before returning to the PLP in 2005. In 1998 to 2006 he served as Chairman of The Centre for Positive Change.
He is currently the Leader of Opposition Business in the House of Assembly.
He is married to the former Portia Butterfield and they are the parents of two sons. Dr. Nottage is a member of the Anglican Church community.
His hobbies are sports, exercising, traveling and reading.