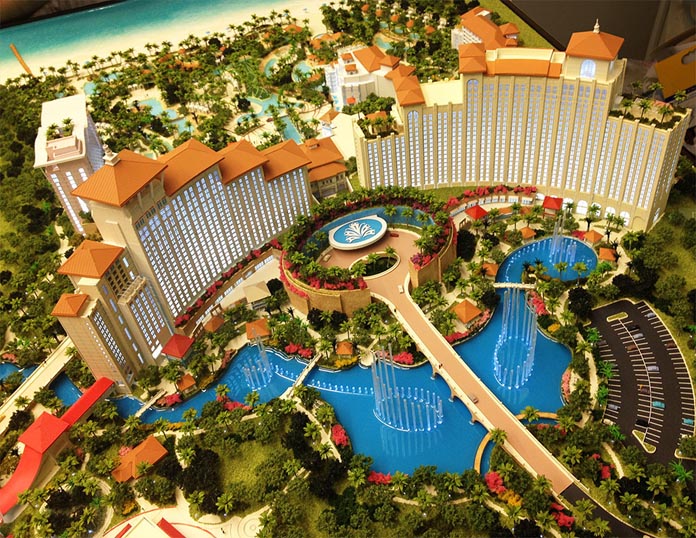 By National Progressive Institute
The National Progressive Institute must respond to the conspiracy theories and misinformation being advanced by Steve McKinney and other surrogates of the opposition surrounding the sale of Baha Mar.
In a Democracy people have a right to disagree and freely express their opinions on matters that affect the country. What we cannot reconcile with are deliberate fabrications that amount to outright lies and misrepresentations of this Bahamar Deal .Leading Attorney QC Wayne Munroe stated that "Documents are sealed for limited time periods to prevent mischief makers and worse from using sensitive material to potentially adversely effect the arrangements. The court has to be satisfied to a high standard. Many of these comments demonstrate why documents are sealed for periods of time."
We at NPI could not agree more with the QC for this matter is too important and too sensitive to allow irresponsible persons to interfere in this conclusion.
Claims by veteran journalist Steven McKinney of the McKinney Broadcasting Network who claimed to have insider information that the Government has given 500 citizenships and land in Acklins Abaco and Andros for the Bahamar Deal. This claim amounts to libel because Mr. McKinney is accusing the government of breaking the law. It should be noted that it is against the law to sell Bahamian citizenship and the very acts that govern these deals: Immigration Act, Customs Management Act, Hotel Encouragement Act and Industries Encouragement Act make no provisions for this. McKinney's claims are false, reckless and borders on sedition
The NPI can say unequivocally that no such arrangements exist and admonish Steve McKinney on his ignorance. Bahamians should note that all developer agreements are measured against the Most Favored Nation Status Agreement of Atlantis. In this agreement, no development can ever receive concessions, benefits, work permits or any provisions equal to or exceeding the terms of the Atlantis agreement. This negates any requests for citizenship, land and tax concessions as reported by McKinney and his Phantom source. We dismiss Steve McKinney's claims as baseless political diatribe intended to intentionally mislead the public and urge Bahamians to reject this fantasy that is a figment of Mr. McKinney's imagination.
The FACTS on the matter are as follow:
• This agreement has been approved by the Supreme Court of The Bahamas.
• It has been sealed until the liquidation and final sale purchase agreement is completed by the Bank and the prospective buyers.
• The Government's three key objectives were met.
firstly, to ensure that construction at Baha Mar would be resumed as quickly as possible;
secondly, to make every effort to ensure that the casino and casino hotel, the convention centre and its hotel, and the golf course, would open before the end of the 2016-2017 winter season;
and thirdly, to ensure that payment of claims to Bahamian creditors and contractors, who previously had little or no prospect of recovering anything from Baha Mar.
• Under the Heads of Terms signed by the Government and The Bank, the re- mobilization at Baha Mar will commence immediately.
• Construction at the site is expected to resume within a few weeks, during the month of September.
• The Bank has committed to fund all remaining construction costs to complete the Project.
• China Construction will finish the works, and will resolve outstanding claims with its suppliers and sub-contractors.
• The BahaMar companies owed money to thousands of Bahamian creditors when they filed for Chapter 11 Bankruptcy.
• Under their Chapter 11 efforts, our people had little prospect of being paid anything. Under this agreement, made today, funds will be made available to enable them to receive a significant part, and possibly ALL of the value of their claims.
• Going forward, many of the same people and companies who were previously contracted will be re-engaged to complete the Project.
• The Government of The Bahamas and the Bahamian utility companies, such as BPL, will receive payment for some of their outstanding claims against the Baha Mar companies.
• Thousands of former Bahamian employees of Baha Mar will receive the following outstanding amounts due to them: unpaid salaries, severance pay, accrued vacation pay, and notice payments due to termination.
• Sums deducted from employees and former employees' salaries and pension contributions will be repaid.
• Further, Bahamians holding commercial leases and concessions will be permitted to continue to hold them.
Finally, to address and put to rest these conspiracy theories, there is no secret dealing under the table. There were no additional concessions other than the ones given on taxes for construction and import tax waivers. In addition we must address these unfounded claims that a resort of this size cannot be developed in a single phase. Bahamians should note that In 1996, Adelson imploded the Sands Hotel to make room for The Venetian Las Vegas. Construction began in 1997 and the resort was completed on May 3, 1999; all in one phase.
Furthermore, we note that the much larger Venetian Macau began land reclamation in 2004, foundation construction in 2005 and was completed in 2007. As you can see from the photos attached to this release it was possible.
We urge our fellow Bahamians to do proper research, listen to credible and reliable sources and reject all unfounded and baseless claims.
This deal represents a monumental step forward in our country and we ask all Bahamians to trust that their government has represented them well.
END