IZMIRLIAN, D'AGUILAR AND DR. MINNIS CANNOT BE TRUSTED ON BAHA MAR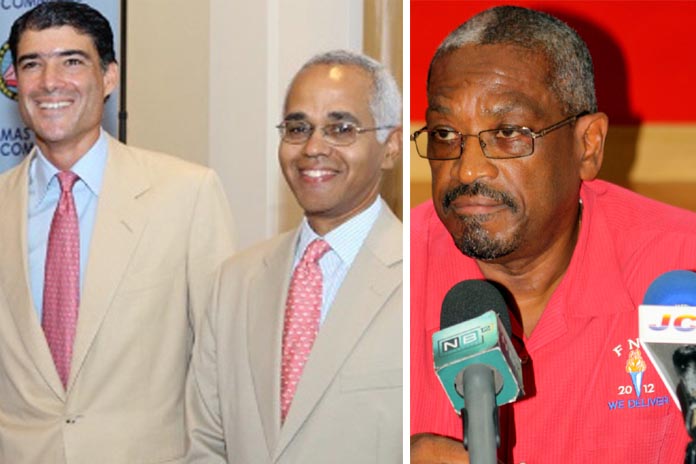 BRADLEY B. ROBERTS
NATIONAL CHAIRMAN
PROGRESSIVE LIBERAL PARTY
Sarkis Izmirlian, Dionisio D'Auguilar (former Baha Mar board member and Sarkis' mouthpiece) and Hubert Minnis (leader of FNM being funded by Sarkis) are three people who continue to disrespect Bahamians with their duplicity on Baha Mar and therefore have absolutely no credibility and cannot be trusted on this matter.
THE FACTS ARE READILY AVAILABLE AND TRANSPARENT FOR ALL TO SEE AND JUDGE!
Sarkis, who brought the China EXIM Bank and China Construction of America (CCA) to The Bahamas as his partners in the Baha Mar deal, unceremoniously betrayed them and the Government and people of The Bahamas on 29th June 2015 when he filed for Chapter 11 bankruptcy in Delaware. The records that Sarkis' legal team filed in Delaware showed that he had been planning this dastardly move at least as early as February 2015! This means that even while the Prime Minister, at Sarkis' request, was asking EXIM (Sarkis' partner) and the highest levels in China to fund the completion of the deal, the very same Sarkis was pursuing Chapter 11. Who could ever trust him again?
Let's lift the lid on what Sarkis' legal team filed in Delaware to see the facts. The declaration of Thomas Dunlap (President of the Baha Mar Petitioners in Delaware and Sarkis' mouthpiece) filed on 29 June 2015 in Delaware admitted to obtaining Debtor in Possession ("DIP") financing of up to $80 Million from a company owned by Sarkis. Dunlap said, "any form of post Petition financing on an unsecured basis would plainly have been unobtainable". That's right – plainly unobtainable. And of the $80 Million DIP financing, the Delaware Court approved $30 Million and Sarkis' company funded less than $15 Million. That's right less than $15 Million and not the $80 Million he was touting around Nassau in the media. This kind of business dealing is duplicitous and misleading, especially when thousands of jobs and tens of millions of dollars owed to creditors hang in the balance.
There is more. In Delaware on July 10, 2015 – yes Independence Day – Sarkis' legal team said that in the absence of further funding they would be "compelled to …downsize their operations" including "archiving a substantial portion of their current property and reducing their workforce to a skeletal staff necessary to minimally maintain the resort assets". The "skeletal staff" was 52 people – a reduction of 98% of the workforce that had numbered 2400. While Sarkis was in Nassau saying that staff would be retained, in a Delaware bankruptcy court Sarkis' representatives made it plain that the staff would be reduced to 52 people.
Sarkis knew at all material times that the Bank's debt was secured for $2.3 Billion and that CCA also had secured debt behind the Bank. So, realistically the only people who could sensibly finish the Project were the Bank, or CCA or Sarkis. But Sarkis put up less $15 Million – not the estimated $600 Million required to finish and open the Project.
Sarkis' own filings in Delaware made it clear that Sarkis had no funding to complete and open the Project. This is not surprising as any new money from a 3rd party lender would have to come behind the Banks' secured $2.3 Billion.
These facts come from Sarkis' filings in Delaware. Sarkis, D'Aguilar and Minnis cannot be trusted.
THE FACTS ON THIS MATTER ARE UNASSAILABLE AND MUST STAND AND NO AMOUNT OF REWRITING OF HISTORY AND DISTRACTIONS CAN CHANGE THE FACTS.
The bottom line is that under Sarkis' plan as revealed in his own documents filed in Delaware, unsecured Bahamian creditors, after paying legal fees to fight for justice in Delaware, would have gotten nothing in Delaware.
IN EACH STEP OF THE WAY WAS DR. HUBERT MINNIS WITH HIS EYES WIDE SHUT BLINDLY AND PUBLICLY SUPPORTING THE DELAWARE DEBACLE AND REMAINS UNAPOLOGETIC TO THIS DAY FOR HIS BETRAYAL OF THE BAHAMIAN PEOPLE.
Thanks to the negotiations of the Bahamas Government, the EXIM Bank has funded the completion of the Project. Further, the Bank has put up funds for, among other payments, the payment of the employees' severance and other entitlements (as stated by the Prime Minister); the commitment to pay something to unsecured Bahamian creditors connected with the Baha Mar project who had no hope of being paid in the Chapter 11 in Delaware; the payment and re-engagement of Bahamian CCA's subcontractors and finally there is a realistic prospect that the Project will be open and operating in 2017.
Who sits on a corporate board and refuses to honour severance, pension, national insurance payments etc on behalf of employees? How could these people be trusted?
Sakis is on record as stating that Baha Mar was 97% completed and on budget, only to accuse CCA of being behind schedule and driving up the cost of the project. Again this is duplicity unworthy of trust.
In the middle of this is the hapless Dr. Hubert Minnis who lacks a mind of his own and who apparently takes his cue from talk shows and social media. Not only did he support the Delaware bankruptcy filing, but how else can one explain his temerity in accusing the government of breaking the law by selling citizenship. This is not legally possible. Further, the Bahamas Supreme Court reviewed and approved the terms and conditions of the resumption of the project therefore by inference, Dr. Minnis has unwittingly regarded the Supreme Court with utter contempt by suggesting that this national institution was a part of a criminal conspiracy. He provides no evidence – he simply repeats what he heard on the talk shows and in social media without the benefit of sensible reasoning. This alone disqualifies him from serious consideration to lead this country.
In the end, the only constant in this process was the Bahamas government who never wavered from its position of getting the project completed, getting our people back to work and getting our creditors paid so that Baha Mar could fully realize its economic potential.