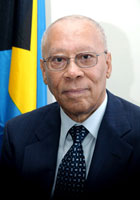 Marsh Harbour, Abaco — Is HE Governor General Sir Arthur Foulkes on the campaign trail?
As we write Sir Arthur Foulkes and the former MP for South Abaco, Robert Sweeting, is at this hour having dinner at Curly Tails restaurant in Abaco.
It is alleged that the FNM is in talks with Sweeting and other party officials in the constituency about finding a new candidate for the South Abaco seat.
BP understands Key is losing badly to the younger Roscoe Thompson III. Mr. Thompson's grandfather, Mr. Roscoe Thompson I was well liked in Nassau where he operated the Thompson Department Store. He retired some years ago and moved back to Abaco. The young Thompson is getting traction because of his father and grandfather's good standing in the community. The FNM sees Sweeting as a saviour in all this.
Our polls conducted this week on the ground in Abaco from Moores Island to Fox Town confirmed that the FNM is in trouble on the island. While our numbers are not complete, the upstart Thompson is leading Key by 10 percentage points. This is the raw data and we will complete our calibration and statistical formulation to make certain that our numbers are not skewed.
We report, yinner decide…