A BP NEWS ALERT >>> The murder, you would remember, occurred near the air hose section at the gas station….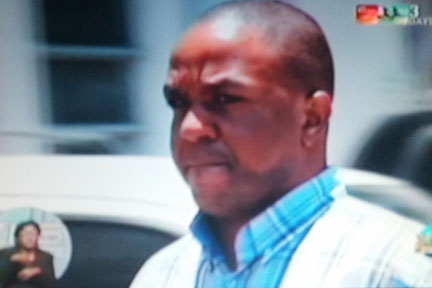 Nassau, Bahamas – This man, John Adderley, a taxi driver, is now before the courts in the murder of his girlfriend, who was an educator.
Bahamas Press readers would remember how BP was eating a chicken in the bag at a bar just on Kemp and Wulff Roads when we heard loud shots ring out at the Texaco Service Station in the area on the evening of January 9th, 2011.
At the time, we reported how BP learnt a woman was shot near the air hose section of the property and sat motionless in her vehicle.
The incident had occurred around 10pm when a taxi pulled up near a car and opened fire on the vehicle, hitting the occupant [a female passenger] inside.
The victim was left slouched in her seat suffering from gunshots. The taxi we are told fled the scene but was almost immediately followed and stopped by the police officer that testified today that Adderley confessed to the murder and pointed to the gun in the passenger seat.
Today is the second day of the trial and we understand a number of witnesses will be called.
BP is indeed following this case because we want to know why this big GRAY ASS MAN would shoot his woman?
Just dumb!
Meanwhile, another man was killed and found in a public bathroom this morning.. Here we go again….
We report yinner decide!