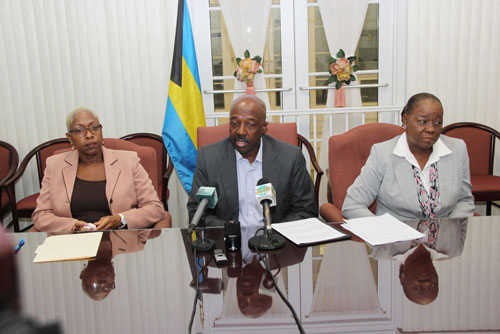 NASSAU, The Bahamas – Recognizing that democracy and successful governance are built on the foundation of a competent Public Service, the Government is staging a number of activities to highlight the work of its more than 20,000 public officers.
During a press conference Monday, October 20 at the Ministry of the Public Service, Minister of Labour and National Insurance, and of the Ministry of the Public Service, the Hon. Shane Gibson shed light on the week of activities aimed at highlighting the work of Public Servants.
Also present were Elise Delancy, Under Secretary, Ministry of Labour and National Insurance and Jocelyn Simms, First Assistant Secretary.
The 15th Annual Public Servants Events are being held October 14 to 26. Because of the additional activities introduced, the Ministry decided that certain activities would precede the actual week, which began on Sunday, October 19 with a church service at Bethel Baptist Church.
The activities are being held under the theme: "Charting the Course, Serving the Nation and Securing the Future."
Such events are:
· A Retirees Seminar held October 14;
· Float Parade and Golden Oldies Dance held October 17;
· The Volleyball Tournament held October 18; and
· Retirees Awards Ceremony for Public Service Week – October 22 and October 23 at Government House.
"Too often our Public Officers are castigated and not celebrated," Mr. Gibson said adding, "This is the time to celebrate and be celebrated. These celebratory events are designed to promote the role, professionalism and visibility of the Public Service."
According to Mr. Gibson, 15 years of celebrations have put the Government of The Bahamas "ahead of many other organizations when it conceived and implemented a Public Service Recognition Week."
In December 2002, the United Nations General Assembly designated June 23 of each year as United Nations Public Service Day. This encouraged member states, including The Bahamas, to organize special events on that day to highlight the contributions of Public Service in the development process of any country.
"In The Bahamas, our activities have been created to recognize the work of Public Servants, highlight their contributions to society and celebrate their value," Mr. Gibson said."
He said as the ministry continues to develop its events, "we will widen our reach to encourage young people to pursue careers in the public sector — truly securing our future."
Mr. Gibson also acknowledged that with scarce resources, the Public Service is still called upon to "go the extra mile" and with ingenuity and resourcefulness they continue to make it happen.
'Public Servants deserve our thanks every day throughout the year and we invite the community to continue honouring them for the work they do each and everyday. The value of Public Service cannot be overestimated," he said.
He then offered "gratitude of the Prime Minister and Government and people of The Bahamas to every Public Officer."