On Saturday past thousands packed the Botanical Gardens for Kalik's Festival of the Bahama Islands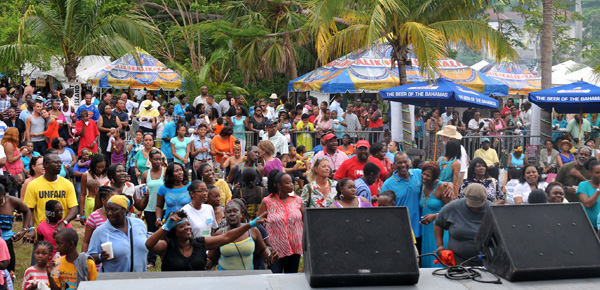 BIG PARTY TO CELEBRATE BAHAMIAN!
Nassau, Bahamas – Bahamian pride was on full display this past Saturday as thousands packed the Botanical Gardens for Kalik's Festival of the Bahama Islands — a visual, musical and culinary feast in recognition of The Bahamas' 40th Anniversary of Independence and Kalik's 25 th Anniversary.
The event that ran for 10 straight hours featured some of the hallmark customs and traditions of the Bahamian experience  from crab catching to quadrille dancing, from bush tea medicine to storytelling, from making copper jewelry to making the best lionfish tacos in town. Bahamian culinary tradition was on full display with a variety of tasty options like conch fritters, crab n' rice and bowls of chicken souse on the menu.
"It is Festivals such as these that solidify our identity and expose young people to our Bahamian heritage, so vital to our country's continued growth and development," said Minister of Youth, Sports & Culture Dr. Daniel Johnson, who officially opened the event. "Once again, congratulations to Kalik Beer on the occasion of its 25th Anniversary Celebrations and a heartfelt thank you for bringing the islands of The Bahamas together as we, too, celebrate our 40th Anniversary of Independence."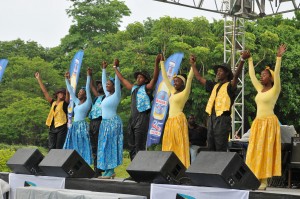 It was the confluence of Kalik's 25th and the nation's 40th that inspired the festival nearly a year in planning and involving hundreds, including the Royal Bahamas Police Force Urban Renewal Band and performances by some of the best known artists of the past four decades.
The joint celebration — sponsored in part by BTC, Coca-Cola and ZNS — seemed a natural, according to Nico Pinotsis, Managing Director of Commonwealth Brewery which brews Kalik.
"It is hard to imagine a Bahamas without Kalik — though historians have assured me there was such a time — and equally hard to sip a Kalik without picturing The Bahamas. The Bahamas and Kalik are like a romance where each has remained ignited and in tune with the other. In fact, when I was flying out here to take up this post as managing director, the flight attendant asked me my final destination. When I told her I was going to The Bahamas, she said, 'Be sure to have a conch salad and a Kalik. I smiled secretly because she had no idea of the job I was about to begin. But from that moment on, I knew that Kalik meant more than a beer that satisfied a thirst. It was a Bahamian 'ting. And so today we celebrate the two milestones and we do it with all things Bahamian. We are proud to have brewed this Festival of The Bahama Islands, but we could not have done this without all our partners, BTC, Coca-Cola and ZNS and most especially the Ministry of Youth, Sports & Culture."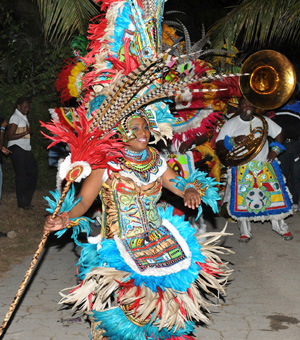 The National Dance School under the direction of Robert Bain or Drumming took to centre stage several times — crowd pleasers with drumming, obeah dancing and the plaiting of the May Pole. The night was capped off with the Fred Ferguson-produced Bahamian Music extravaganza, 'Celebrating 40 Years of Bahamian Music', performed by Tingum Dem an' Friends – a lively trip down memory lane covering many of the major hits in Bahamian music since 1973.
No celebration of Bahamian culture would be complete without a grand finale 'Junkanoo rush', organized by the Junkanoo Commandos, a collection of 'Junaknooers' from the top four groups.
"For 25 years Kalik has played an emblematic role within Bahamian culture as "The Beer of The Bahamas" so we thought it only fitting that we provide such a venue for cultural appreciation," said Kalik brand-manager, Jannifer Thurston, who called the official 40th Kalik event to be a resounding success. "Any time we can encourage thousands of people to unite in a positive celebration of our national identity, we are happy with the results. Already we are getting feedback from attendees and participants excitedly requesting for the event to become an annual occurrence due to the great time they had on Saturday."
One Festival fan was delighted by the authentic experience. "For the first time ever I was able to watch the making of a goat skin drum. As a Junkanoo lover, it was great having the opportunity to share such an intimate demonstration with my 5-year-old son who was even more mesmerized than I was by the process."