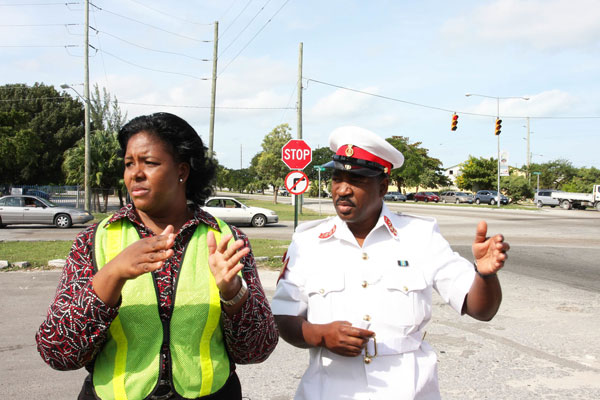 Nassau, Bahamas – The Traffic Division of the Royal Bahamas Police Force is appealing to motorists to discontinue illegal use of the service road between Solomon's and the East West Highway.
"Recently we have observed an increase of vehicles using the service road to enter on to the East West Highway," said Sgt. Garland Rolle. "We have posted signs in the area warning the public that it is illegal for persons to make right turns from the service road on to the East West Highway. You can only make left turns on to Abundant Life road from the service road," he said.
During a news briefing Friday Sgt. Rolle explained that his department has received several complaints from concerned citizens about the increased use of this road particularly between 7 am and 9:30 am. "We are concerned about it and we will do whatever it takes to make sure the rules for the road are adhered to," he said.
He attributed the increased use of the road to the ongoing road works on Robinson Road near to Cable Bahamas, a part of the New Providence Road Improvement Project.
Traffic cops have been assigned to patrol this area from 6:30 a.m. each day. "We will add more motorbikes in this area to monitor the movement of traffic and to make sure so that the signs that are posted are followed," added Sgt. Rolle.
Recently there have had a number of serious accidents in this area, one of which resulted in a fatality, said Sgt. Rolle. "We are asking the public to practice safety on our streets and follow the signs that are posted. We don't want another fatality or serious accident happening in this area. We will have officers to monitor what's going on at this location and if necessary we will do some enforcement."
Sgt. Rolle warned motorists that there is a $100 penalty for illegal use of this road. Among the alternate roads he listed are Abundant Life Road, Soldier Road, Marathon Road and Samana Road.
He urged the public find safe routes and to exercise "extreme" caution and care while driving.
Charlene Collie-Harris, engineer and Public Relations Officer for the New Providence Road Improvement Project said the Ministry of Public Works and Transport has noticed from calls through the Police that persons are utilizing the service road in front of Solomons. "Motorists are not paying too much attention to the way they use the roadways. We're asking them to please adhere to traffic rules regardless of the road works," she said.