BP SUNDAY SPECIAL >>> Could Stellar Waste be behind the recent fires at the New Providence Landfill?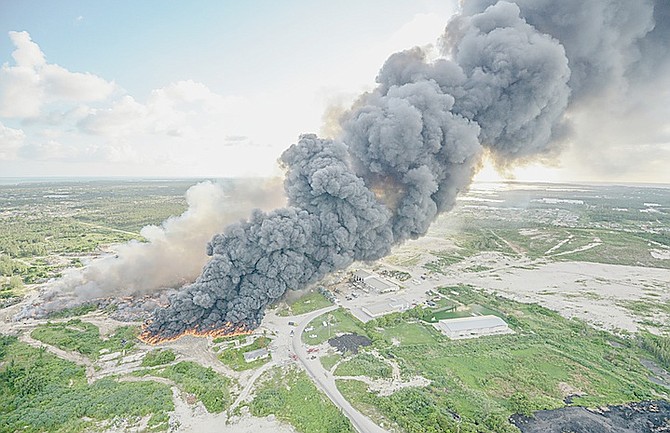 And why is a new Environmental Group and Stellar Waste be located in the same location? BP has intel that some people are organizing and recruiting "Arsonists" to create problems at the Landfill!
Nassau, Bahamas – As the death toll in the Chinese port city of Tianjin continues to rise where some 145 people are reported dead following a massive explosion and fire in that city late this month, Bahamas Press has opened a month long investigation at the city dumpsite following a spate of fires in the area.
In January this year, the media were told a series of fires at the New Providence Landfill were caused by a "concentrated arson attacks on the site and facilities," according to officials.
BP, becoming very concerned about these developments, began tracking down why these incidents were occurring so frequently with almost no focus on them by the public. But, as our investigations opened, we were taken to Sandyport where a familiar group surfaced.
Does anyone remember the group Stellar Waste to Energy Bahamas? Yeah! The group who circulated a letter of intent which stated that they had an agreement with the Government of the Bahamas to produce waste to energy at the New Providence Landfill. That shameful scandal embroiled an MP where the government, through a signed LOI, was committed by the MP. BUT NO DOCUMENT WAS ON ANY FILE IN THE GOVERNMENT NOR WAS EVER THERE ANY DOCUMENT APPROVED BY THE CABINET! Unbelievable!
Stellar Waste's offices are located in Sandy Port! But here's more.
Just before these recent fires in May of this year, a strange, newly organized local environmental group told the Tribune that "they are moving forward with plans to host the first in a series of air quality monitoring projects around the island of New Providence in the coming months."
In that May 20th report, the Organisers of Raise Awareness about the Bahamas Landfill (RABL) indicated that the projects would consist of placing portable air monitoring equipment in various homes to test the population's exposure to toxic air pollutants.
Our investigations initially didn't make the connection between RABL and Stellar Waste, but a closer and more detailed inspection of the faces behind the two groups has uncovered an interesting thing.
Intel shared with Bahamas Press tells us some arsonists are being recruited to start up fires at the New Providence Landfill. That information, which we hope police and authorities will now look into more closely, could possibly prove a connection between the company who sought to use a fraudulent document to take control over the landfill and another new environmental group who claim they are now testing air quality in the area.
We have identified one of the RABL's cofounders to be Laura Paine, who we understand works out of the Essex Law Chambers – guess where? Also in Sandyport – just near the offices of Stellar Waste. Stellar Waste's office is also in Sandyport, and, according to our intel, is "actively grooming recruits" for only the Good Master knows!
Why is the RABL group setting up air quality testing at the Landfill and not at Potter's Cay Dock? Is there a connection between the environmental group and Stellar Waste?
We also find it strange that just days after air testing was to commence at the landfill – fires began happening!
We call on the POWERS THAT BE TO LOOK CLOSER INTO THIS AND AVOID a serious threat that could be brewing by criminals!
We ga report yinner decide – and our investigations shall continue!