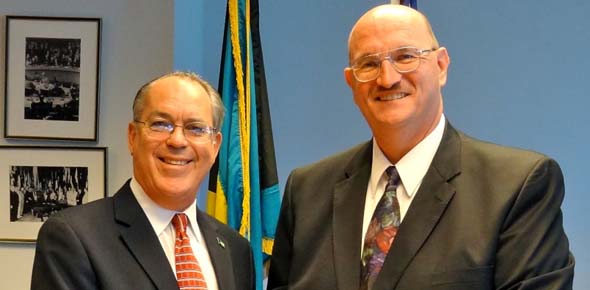 Nassau, Bahamas — On April 26, officials from the Government of The Bahamas and the United States of America began formal negotiations towards defining the maritime borders between both countries. On hand for the opening of the inaugural two-day meeting at the Minister of Foreign Affairs were U.S. Chargè d'Affaires John Dinkelman and Deputy Prime Minister and the Minister of Foreign Affairs, The Hon. Brent Symonette.
Chargé Dinkelman welcomed the Bahamian initiative to begin bilateral discussions on the topic, adding that it only serves to reinforce the strong relationship between The Bahamas and the United States. The Chargé noted that both delegations bring extraordinary experience, technical expertise, and intellectual skills to the proceedings, based on the foundation of friendship and mutual respect. He also highlighted the important role of both countries to be good stewards of the environment.
"Each time we consider the question of a maritime boundary, we encounter unique and novel challenges, yet we can draw confidence from knowing there is a foundation of useful guidance and experience on which to build," Mr. Dinkelman said.
Minister Symonette reinforced the importance of having a defined border between The Bahamas and the United State given the strong bilateral partnership shared between the two countries.
"A defined maritime border between The Bahamas and the United States will allow for more effective law enforcement of The Bahamas' maritime area, including a more efficacious management of fisheries resources and further advancement towards mitigating environmental degradation," Minister Symonette noted.
Officials from both countries highlighted that as the sea connects both countries, so does the commitment to solidify the implementation of a maritime border. It is anticipated that the high-level discussions will strengthen the cooperation on maritime issues, which will further contribute to the maintenance of peace, security and economic advancement.