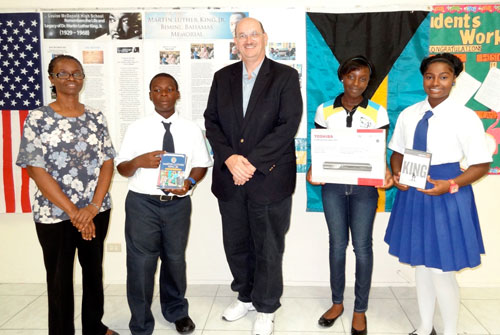 The United States Embassy commemorated the 50th anniversary of Martin Luther King Jr.'s March on Washington and the "I Have a Dream" with two official observances on August 27 and 28. On Tuesday, August 27, U.S. Chargé d'Affaires John Dinkelman made his first official visit to the historic and beautiful island of Bimini where he was given a unique opportunity to walk in the footsteps of Martin Luther King Jr. The highlight of the visit was a meeting with Bimini's bonefish guide and boat builder, Ansil Saunders. When Dr. King visited Bimini in the 1960's, Mr. Saunders took the late civil rights leader out into the mangroves by boat in search of serenity and peace of mind. Dr. King reportedly wrote his Nobel Prize acceptance speech, and later his Sanitation Workers speech while visiting the quaint island.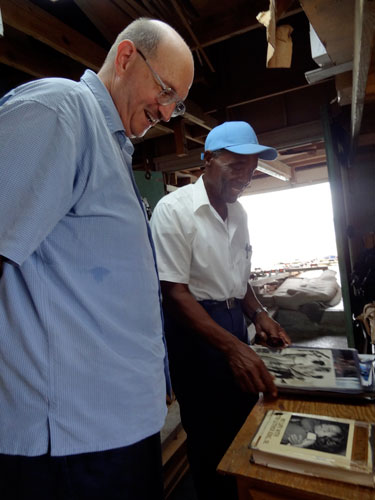 Chargé Dinkelman accompanied Mr. Saunders on a boat tour through the lush mangroves, to the exact spot where Dr. King wrote his notable speeches decades ago. The Chargé also made a special visit to the Louise McDonald high school, where he met with school officials and students and made a formal presentation of materials on the life and legacy of Dr. King, educational books and multi-media equipment.
On August 28, the Chargé hosted a special ceremony to officially commemorate the 50th anniversary of the March on Washington.  The event, held in partnership with the College of The Bahamas, brought together more than 150 invited guests, comprising a cross-section of the community to recognize Dr. King's legacy.  Among the distinguished guests, the Minister of National Security, Dr. Bernard Nottage; Minister of Labour and National Insurance Shane Gibson; Attorney General Allyson Maynard-Gibson, Minister of Youth, Sports and Culture, Dr. Daniel Johnson and leader of the Opposition, Dr. Hubert Minnis.  The event included remarks by Chargé Dinkelman and Mr. Alfred Sears, chairman of the College of The Bahamas who both highlighted the strong ties that linked the American and Bahamian civil rights movements in a push for social justice and equality for all people.
The U.S. Embassy's youth ambassadors gave an impassioned re-enactment of Dr. King's famous "I Have a Dream" speech, followed by the inspiring rendition of "Lift Every Voice and Sing" by legendary musician, Freddie Munnings, Jr.  The evening culminated with the "Let Freedom Ring" Junkanoo rush out performed by the Valley Boys Junkanoo group.