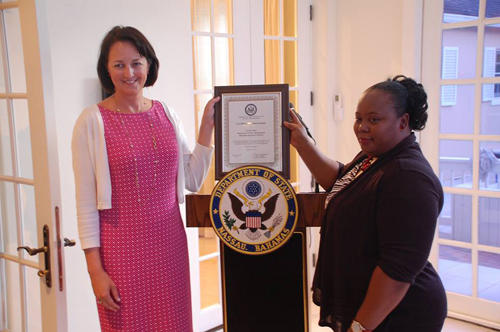 Nassau, Bahamas – On Tuesday, September 15, the U.S. Embassy's Consular Section held a reception at Liberty Overlook in appreciation of its key partners who support safe and responsible travel as well as provide services to assist American citizens in The Bahamas. The event served as an opportunity to recognize some of the Embassy's most critical and helpful contacts.
U.S Chargé d'Affaires a.i. Lisa Johnson and Consular Chief Nathan Hara were on hand for the event joined by Archbishop Patrick Pinder, Catholic Diocese, Ministry of Foreign Affairs and Immigration Permanent Secretary Sheila Carey, Ministry of Tourism Permanent Secretary Harrison Thompson, and many others. Chargé Johnson gave remarks expressing gratitude for the hard work and collaboration between the U.S. Embassy and its key partners in assisting American citizens and facilitating visa services.
During the event, the U.S. Embassy formally recognized two individuals who provided exceptional service over the last year. Carnival Cruise Line's CareTeam was honored for their efforts assisting American citizens facing medical, family, and legal emergencies. In addition, Ms. Vivette Moss of the Registrar General's Office was recognized for her help in the verification of visa applicants' biographical information which is used to detect and prevent identity fraud.
With over six million U.S. visitors to The Bahamas each year and visa applicants from over 100 different countries, the U.S. Embassy dedicates significant resources to providing courteous consular services that promote the safety and welfare of American citizens and facilitate the legitimate travel of foreign nationals to the United States.