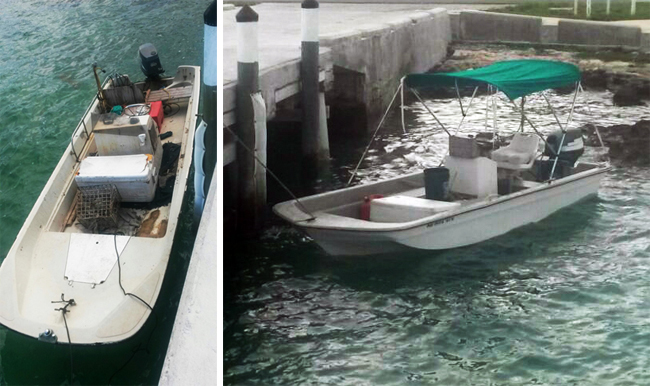 Coral Harbour Base (RBDF) – While on routine patrol in the area of Umbrella Cay in the Northern Abacos, Her Majesty's Bahamian Ship (HMBS) P-48 commanded by Lieutenant Alexis Brown observed occupants aboard a Boston Whaler engaged in spear fishing. P-48 then proceeded toward the vessel to conduct a routine boarding and inspection.
Upon arriving in the area, two more vessels were seen by crew members of HMBS P-48. All three vessels then fled the scene as HMBS P-48 approached. HMBS P-48 gave chase intercepting one of the boats. Defence Force Marines later boarded the 17-foot Boston Whaler resulting in the arrest of two Bahamian men, who were found in possession of a quantity of undersized crawfish. At the time of the incident, the two men had no personal identification or any proof of ownership for the vessel.
Swift action undertaken by Lieutenant Brown and his crew members also resulted in the arrest of another small vessel engaged in illegal fishing. This incident occurred while P-48 was escorting the first vessel it had apprehended to Cooper's Town. During the boarding, Defence Force Marines also confirmed that the two Bahamians aboard a second 17-foot Boston Whaler did not possess any form of identification or proof of ownership. Juvenile grouper and a quantity of undersized crawfish were found aboard their vessel.
The four men were and the two vessels were taken to Coopers Town, Abaco where they were handed over to the Department of Fisheries for various fisheries violations and further investigations and verification of ownership of the vessels.
The Royal Bahamas Defence Force remains committed to "Guarding our Heritage."