More money to help young people in the Bahamas by US!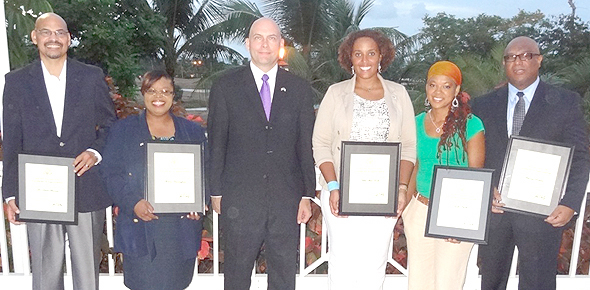 NASSAU, BAHAMAS –Professionals from a wide cross section of Bahamian society gathered on Wednesday, September 26th at the U.S. Chief of Mission's "Liberty Overlook" residence to recognize the five recipients of the U.S. Embassy's 2012 State Alumni Youth Outreach Small Grants Program. The goal of the small grants program is to foster youth leadership development through support to community-based projects led by alumni of U.S. Department of State exchange programs, which include the Fulbright and Humphrey Fellowships, the International Visitor Leadership Program, Summer Institutes, and SportsUnited Leadership through Sports Program.
During a brief ceremony, U.S. Chargé d'Affaires a.i. John Armstrong described the importance of providing at-risk youth with an opportunity to recognize their innate talents and leadership skills. Mr. Armstrong commended the five recipients for recognizing the need for community-based programs to encourage young people on New Providence and the Family Islands to overcome obstacles and become successful and productive citizens.  He remarked that when a young life is lost, especially to violence, not only is it a loss for their family, it is also a loss for the country. The U.S. Chargé also presented certificates of appreciation to the five small grants recipients listed below:
Ms. Noelle Nicolls on behalf of The Indaba Project:  Indaba Project hosted a ten day camp known as the "Island Stewards" that exposed 20 underserved Bahamian youth to a transformative series of experiences and challenges designed to deepen the student's understanding of environment and the culture of The Bahamas. The camp engaged students in a holistic approach in collaborative community service and activities designed to promote conservation and sustainable practices.
Mr. Antonius Roberts on behalf of the National Bench Program: The National Bench Program is a wood working craftsman apprenticeship program. The National Bench Program seeks to encourage young adults in Andros and Abaco into the trade by increasing their operations. The project is centered on creating an artisan and carpenter community while encouraging environmental sustainability through the use of scrap wood and other discarded materials.  Due to the opening of his Hillside Gallery exhibit, Mr. Robert's brother Mr. Bruno Roberts accepted the award on his behalf.
Ms. Therena Cunningham on behalf of S.T.R.A.W Girls:  S.T.R.A.W (strengthening, transforming, restoring and affirming young women) Girls is a development organization which provides a safe, positive and structured mentoring and advocacy program for adolescent girls, teens and young women in The Bahamas. S.T.R.A.W. Girls launched their "Respect Program." The program targeted at risk 11th and 12th grade girls in an effort to reorient their goals and focus on self-respect, academic and personal success while providing them with a support system.
Dr. David Burrows on behalf of the Winners Touch:  Winner's Touch, a mentoring and life coaching program for youth and young adults.  Their goal is to create quality leaders with integrity, by providing them with training in personal finance, leadership, and teaching them to foster good relationships. The grant funding will be used for used to support initial start-up costs and purchase learning materials.
Ms. Nikita Shiel-Rolle on behalf of Young Marine Explorers:  The Young Marine Explorers is a non-profit environmental organization committed to providing transformational educational experiences to Bahamian youth.  They strive to inspire young Bahamians to find their personal passion by introducing them to The Bahamian environment and offering learning opportunities within the outdoor classrooms.  The funding will be used to execute the "Environmental Youth Ambassadors Program" that will train underserved youth on the Family Islands as PADI certified divers and provide environmental education and leadership training which they will use to spearhead community projects of their own.