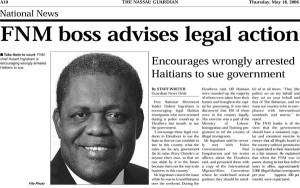 The Ministry of Foreign Affairs and Immigration is pleased to publish the  text of the UNHCR advisory forwarded yesterday by the United Nations High Commissioner for Refugees Regional Office for the USA and the Caribbean, which replaces the February 2010 advisory on the return of Haitians following the earthquake that devastated Haiti in January 2010:
"This return advisory updates the joint communication issued by the United  Nations    High Commissioner for Human Rights and the United Nations High Commissioner    for Refugees on 18 February 2010 in respect of the humanitarian crisis in Haiti precipitated by the January 2010 earthquake.
Despite the recent elections and the positive outlook that they bring to the recovery of the country, the Haitian State, weakened by the earthquake, cannot yet ensure that vulnerable or disabled people, people with health problems or victims of sexual abuse in Haiti would receive sufficient or adequate care by the State in case of return.  In this context, Governments should refrain from conducting returns to Haiti.
Given the current situation prevailing in Haiti, OHCHR and UNHCR would like to appeal to Governments to renew, on humanitarian grounds, residence permits and other mechanisms that have allowed Haitians to remain outside the country.  This appeal would include those Haitians evacuated in the aftermath of the earthquake, those who were stranded outside Haiti at the time of the earthquake as well as their close family members under the principle of family reunification.
OHCHR and UNHCR fully recognise the prerogative of States to return individuals to their country of origin when they are found not to be in needs of international protection.  In the absence of other applicable legal frameworks and given the situation described above, the two organisations call upon Governments to apply, at the very least, the following principles: Give special consideration and refrain from returning to Haiti persons with special protection needs in the current humanitarian context, in particular: any unaccompanied or separated minor, given the lack of comprehensive and effective child protection mechanisms, unless an individual assessment has determined that return would be in the best interest of the child and that appropriate measures for the child's protection, including guardianship and adequate civil documentation, have been secured prior to return; any Haitian living with disability or suffering from a severe medical condition, unless specific precautionary measures in terms of reception and reintegration are in place; any Haitian victims of human trafficking, for whom a protection-sensitive approach should be adopted.  Carry out an individual assessment of their risks to determine whether return or another solution should be pursued, while effectively pursuing human trafficking and smuggling networks to the full extent of the law; any victim of sexual or gender based violence given the current gaps in the provision of State protection in Haiti; Prevent situations where returns lead to separation of family members; verify the nationality of persons of Haitian origin when doubts arise as to nationality; ensure that forced returns are undertaken in a humane manner, in full respect for human rights and dignity, and with adequate advance notification provided to the competent Haitian authorities so they can prepare for their reception."