Plane drove right though the Bahamas – Did Bahamas Air Traffic knew what was happening in our airspace?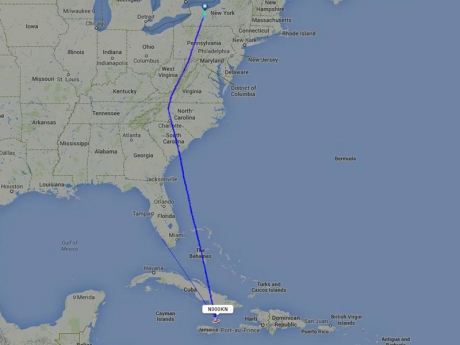 By BBC
An unresponsive private plane has crashed in the sea off Jamaica, officials on the island have said.
Major Basil Jarrett of the Jamaican Defence Force said the plane went down about 14 miles (22 kilometres) north-east of Port Antonio.
Jamaican and US Coast Guard planes and ships are on their way to the scene.
It is not known how many people were on board the plane, a Socata TBM-700, which took off from Rochester, New York at 08:26 (12:26 GMT)
The aircraft was due to fly to Naples, Florida, before it went off course.
The US had scrambled two fighter jets to investigate why the plane failed to respond to air traffic control from 10:00 local time (14:00 GMT).
A North American air defence (Norad) spokesman said it was not possible for the jet fighter pilots to see inside the plane before it crashed as the windows were frosted or fogged over.
A tweet from Norad suggested the pilot or pilots could be unresponsive due to "possible hypoxia".
A spokesman said the jets were launched at 11:30 local time (15:30 GMT).
The plane was flying at an altitude of 25,000 feet southbound over the Caribbean Sea, approaching the north east point of Jamaica, when it went off radar.
Earlier, the US Federal Aviation Administration said it has co-operated with Cuba air traffic control in monitoring the plane, despite the countries not having full diplomatic relations for more than half a century.