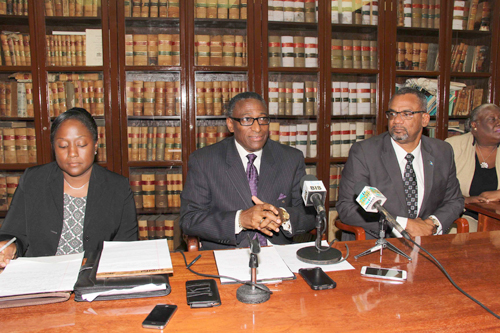 NASSAU, The Bahamas — As agriculture and marine science students, some 50 of them, eagerly anticipate the September 2014 opening of the first Bahamian fishing and farming school in Andros, they will be welcomed by an institution leader – the new Executive Director of the Bahamas Agriculture and Marine Science Institute — who is also Andros-born.
Minister of Agriculture, Marine Resources and Local Government, the Hon. V. Alfred Gray in a press conference, September 3, at the House of Assembly said: "I am very pleased to announce the appointment of the Executive Director of the Bahamas Agriculture and Marine Science Institute (BAMSI) in the person of Dr. Rovenia Roberts Hanna."
Minister Gray said that Mrs. Hanna is a graduate of the University of the West Indies, where she obtained a Bachelor of Science Degree. He added that she went on to the University of Liverpool, where she studied Tropical Medicine, obtaining a Master's Degree with Distinction. From there, she attended the University of Newcastle in London, England, United Kingdom, where she earned a Doctorate Degree in Philosophy with special emphasis on Post Harvest Technology, said Minister Gray.
"She is an author of several theses. She is very experienced, very academically strong, and she's been in the business of academics and research over 12 years." Minister Gray said that BAMSI and the school it represents certainly is going to be better off because it has been able to capture the talent of a wonderful professional woman. "And I emphasize 'woman' because I believe she will probably be historically speaking, the first Executive Director of BAMSI. And that's going to go down in history as a first for a woman in that regard."
Education Minister, the Hon. Jerome Fitzgerald also commended Dr. Roberts Hanna on her appointment. He thanked Minister Gray and the Board at BAMSI: "We were very pleased when we looked at qualifications of a very young inspiring and dynamic Bahamian who is able to fill this post being advertised," said Minister Fitzgerald.
"So, from the Ministry of Education's standpoint, we are looking forward to the programs that will be initiated there, under the support of the College of The Bahamas, and the direction of the College of The Bahamas. We look forward to producing in great number of persons who are qualified and who are interested in the field of Agriculture."
Minister Fitzgerald said he understands that they have already have been able to attract 50 students to the school and that's a great start."From the Ministry's standpoint, we look to give whatever financial assistance is necessary for those new students coming in. Congratulations to Mrs. Hanna and I wish her all the best in her leadership role at BAMSI," said Minister Fitzgerald.