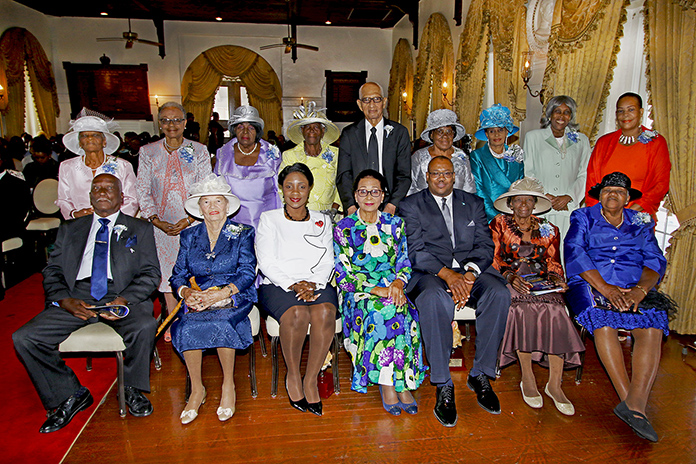 NASSAU, The Bahamas – In observance of Older Persons Month, 13 senior citizens from throughout the community were saluted for their outstanding talents and contributions to the development of The Bahamas.
The Governor General Her Excellency Dame Marguerite Pindling presented the honorees with Nation Builder Awards during the 20th Annual Nation Builder Awards Ceremony at Government House on Monday, October 30.
International Day of Older Persons is commemorated annually on October 1. The Bahamas, in partnership with the United Nations General Assembly, is celebrating its 20th year of observing October as Older Persons Month. The theme for this year's celebration is, "Stepping into the future: tapping the talents, contributions and participation of Older Persons in Society."
The Nation Builder Awards recipients are: Miriam Arnette, Victor Cooper, Remona Delancy, Ann Johnson, Sheila Johnson, Nora Knowles, Frances Rahming, Florence Ramsey, Drucilla Rhodriquez, Edith Brown-Rolle Chauncey W. Tynes, Thelma Walkes and Joyce Bannister-Young.
The Hon. Lanisha Rolle, Minister of Social Services and Urban Development, headed the list of Government officials at the ceremony. Also in attendance were Parliamentary Secretary, Vaughn Miller; Lillian Quant-Forbes, Acting Director; Gwen McDeigan, President, Bahamas Association of Retired Persons; family, friends, senior citizens representing various Urban Renewal Centers and well-wishers. The Royal Bahamas Defence Force Pop Band provided music.
ln her remarks, Minister Rolle told the honorees that today's event is only a "small" token of love and appreciation for them, their sacrifices and labor of love for their families, communities and the Bahamian people.
As an advocate for older persons, Minister Rolle said it is "imperative" that a Senior Citizens line with comfortable seating is established in every institution.
She said older persons should have preference in medical institutions, and special discounts by virtue of their age, irrefutable contributions and distinct needs.
She suggested that older persons ought to be considered for tax exemptions and rebates, and it may be fitting to explore the possibility of a tax-free or discounted sales day for older persons in October.
Moreover, she said avenues for alternative jobs after retirement should be explored.
"Older persons may not be as young as they used to be, but they still have significant contributions they can make," said Minister Rolle.
She remarked that the purpose of the Senior Citizens Division in the Department of Social Services is to focus on persons 60 years and older who are considered "vulnerable" and are in genuine need of assistance in obtaining or maintaining an acceptable standard of living.
"One challenge we will continue to tackle head-on is "discrimination against persons because of their age. This form of discrimination is called ageism.
"Ageism assumes that discrimination against older persons is normal and acceptable. It can manifest itself in individual and institutional behaviors and decisions which can have a negative impact on the lives of persons allowing for their marginalization and social exclusion from society.
"The Bahamas Government via the Department of Social Services Senior Citizens Division, plays a significant role in meeting the needs of as many older persons as possible. This is also in keeping with the United Nations plan of action on ageing endorsed by the United Nations General Assembly in 1982 after being adopted at the World Assembly on ageing at Vienna Austria."
Minister Rolle explained that the plan aims to strengthen the ability of governments and civil society to better deal with ageing populations and to facilitate initiatives and polices that will positively impact the lives of older persons.
The first Nation Builder Awards Ceremony was held on October 31, 1997. The award was implemented to recognize persons who have worked tirelessly and given service to their family, community, church and civic groups.