Urban Renewal Youth Seminar & The People's Peace March and Rally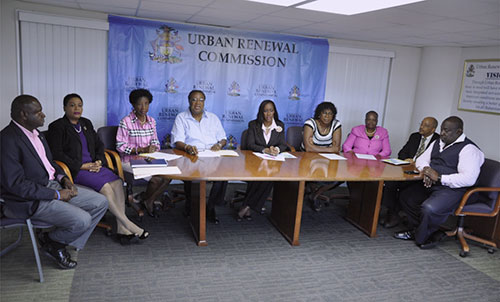 In celebration of Mediation Week and Conflict Resolution Day, observed internationally during the third week of October, 2014, the Urban Renewal Commission has partnered with International Coordinator Koschina Marshall – Educator and Attorney, the Water & Sewerage Corporation, Ministry of Education, Science, and Technology, Ministry of Youth, Sports, and Culture, Ministry of Social Services and Community Development, and several civic organizations, to promote and foster Peace and Goodwill amongst Bahamians, particularly the young people.
Youth Seminar
In this regard, the Urban Renewal Commission will sponsor a Youth Seminar on Friday 10th October, 2014 during the hours of 10:00 a.m. to 1:00 p.m. at the Sir Kendal Isaacs Gym, where 400 students from public and private schools will converge to hear international speakers Dr. Ralph Steele and Ms. Lillian Vargas addressing sessions on Alternative Dispute Resolution (ADR), which include: Mediation, Collaboration, Negotiation, Conflict Resolution, and Decision Making.
The People's Peace March and Rally
The Urban Renewal Commission will sponsor The People's Peace March and Rally on Saturday 18th October, 2014.
Peace March
The Peace March will commence at 3:00 p.m. led by the Peace Ambassadors, Churches, the Urban Renewal Band, and Junkanoo Groups, and will take the following Routes:
Route 1: Leave R.M. Bailey Park traveling west on Robinson Road to Ida Street, traveling north to Balfour Avenue, from Balfour Avenue to west to Lincoln Blvd., north onto Lincoln Blvd., west to Cordeaux Avenue to Wilson Tract, north on Wilson Tract to Wulff Road, and heading west on Wulff Road to Windsor Park.
Route 2: Beginning at Christie Park heading south on Nassau Street to the College of The Bahamas roundabout, heading east onto Poinciana Drive, turning onto Finlayson Street, heading north – turning east onto Ferguson Street, traveling to West Street, turning south, then east onto Fleming Street, traveling to Market Street, heading south to Wulff Road and east on Wulff Road, ending at Windsor Park.
Route 3: Beginning at the Southern Recreation Grounds traveling north on Baillou Hill Road, onto Cumberland Street, heading east, turning south to Ross Corner, west on Ross Corner to market Street, traveling south to Wulff Road, traveling east on Wulff Road, ending at Windsor Park.
Peace Rally
The Peace Rally will start at 5:00 p.m. at Windsor Park, Wulff Road and East Street. Speakers include:
Rev. Diane Francis, Pastor, First Baptist Church & Peace
Ambassadors Youth Coordinator
Apostle Carlos Reid – The Hope Centre
Mr. Everette Russell – Ex-convict
Mr. Richard Demeritte, President of the Chartered Institute of Arbitrators
Bishop Arnold Josey – Pastor, Commonwealth Mission Baptist Church
Dr. Dave Burrows – Youth Pastor, Bahamas Faith Ministries, International
Rev. Dr. Ranford Patterson, President, Bahamas Christian Council
Urban Renewal Commission Co-Chairs; Hon. Dr. Cynthia "Mother" Pratt Hon Algernon Allen
The Urban Renewal Commission invites all residents of New Providence to participate in The People's Peace March and Rally on Saturday 18th October, 2014.
COME ONE, COME ALL!