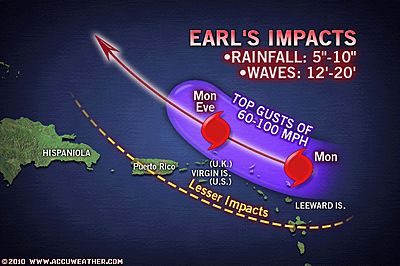 The worst of Hurricane Earl's damaging winds and torrential rain will slam the Leeward Islands
through today.
Earl, the third hurricane of the season, strengthened into a Category 2 hurricane Sunday.
Strong winds high in the atmosphere (also known as wind shear) associated with Hurricane Danielle had been inhibiting Earl's ability to strengthen. That changed Sunday morning as Danielle pushed farther away to the northeast.
Earl will continue to grow into a Category 3 hurricane later this evening, curving slightly more to the northwest in the process.
That slight turn should spare the Leeward Islands from a direct hit by Hurricane Earl. However, Earl will pass close enough to unleash most of its fury on the islands.
The AccuWeather.com Hurricane Center is expecting Earl to pass close to the island of Anguilla this morning.