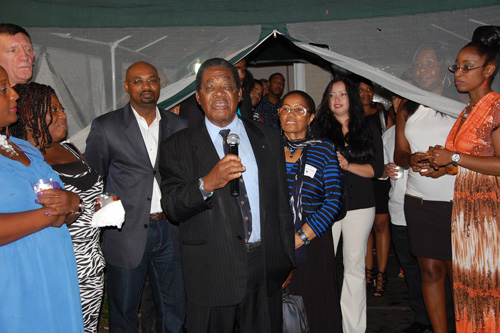 By Oswald Brown
WASHINGTON, D.C. – A heavy downpour of rain during the early evening forced organizers to move the opening of the event under a tent erected on the patio outside the conference room of the Embassy of The Bahamas, 2220 Massachusetts Avenue, N.W., but that did not prevent some 100 guests from enjoying "A Night In The Bahamas" on Saturday, September 6, 2014.
The evening of fun, food and dancing was organized by THINGS TO DO DC, which bills itself as "the premier social and networking organization for young professionals." Similar events are periodically sponsored by the organization at various Embassies in Washington, D.C.
His Excellency Dr. Eugene Newry, Bahamas Ambassador to the United States, welcomed the guests to the Embassy during brief remarks and invited them to visit The Bahamas.
Guests dined on traditional Caribbean cuisine, including such Bahamian staples as peas and rice, fried plantain and conch fritters and the traditional Jamaican dish curried chicken along with an assortment of deserts. Caribbean dance music was provided by Ryan Browne (DJ PUMPKIN).
THINGS TO DO website claims that it has "an active membership of over 175,000 local young professionals" and it "produces original events that enrich your social and cultural experiences while enabling you to meet other young professionals in a friendly environment."
"Our primary goal is to help enrich the personal and professional lives of professionals of all ages," the website states. "We accomplish this by producing a wide variety of interactive social, educational, and cultural events that encourage our members to learn new things and meet new people. We are quite proud of what we have built in the past and are continuing to build. With your continued participation, Things To Do® will remain the consummate organization for Washington's young professional population."
Upcoming events include a Black Tie Venetian Ball at the Embassy of Italy Saturday, October 4, 2014.