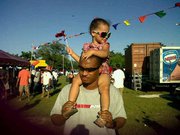 UPDATE ON 124th MURDER
Nassau, Bahamas — Members of civil society could not believe what they heard on early Christmas morning as a man was murdered in coldblood on East Bay Street, while joggers made their regular morning exercise near the Montaqu foreshore.
A noted member of the country told BP, "I heard the gunshots, in the distance, on the East Bay Street. It was just before a number of joggers began their workout. The loud thunderous noise was then followed by screams from persons believed to have been inside the vehicle. I could not believe what I was hearing."
Other eyewitnesses told BP, they saw when a vehicle stopped and pulled up alongside the car of the murdered man. Bruce Talmadge Sands Jr, a 25-year-old technician of the Bahamas Electricity Corporation, was murdered Sunday morning as a hail of bullets aimed in his direction killed him instantly. He along with a few friends had just left the annual BLACKOUT EVENT on West Bay Street.

Another early-morning jogger told BP, "All I could do when I heard the gunshots was to quickly exercise the government's only response to the crime crisis facing the country; 'Stop, Drop and Roll' onto the side of the road and wait for the gunman to pass. The gunshots were so loud I knew the victim could not have survived. I was a distance away, and it felt as if I was shot somewhere about the body."
Police has no suspects in custody into this latest Christmas Massacre on the streets of the capital. Blood flows once again in the streets of the New Providence like a heavy downpour as the year comes to a close with the highest murder rate ever in the country's history.
We report, YINNER DECIDE!