Nassau, Bahamas — If members of the WUTLESS MEDIA were doing their job in the country, The Bahamas would be a far better place. Crime would be much fewer. 'Tiefin' of crown land would be a thing of the past. Rape of children, schoolboys and babies, would follow with serious reprimand, and the 'VIGZY' head people stop the long case backlog in the judiciary. The WUTLESS MEDIA rather walk on a beauty pageant runway and report how the streets of Nassau are flooded with rain. So there you have it.
Bahamas Press on the other hand has a knack for what one-blogger calls "GUTSY Journalism". We fear no MAN, WOMAN OR BEAST! On last week we began or dig at the man we know to be the Prime Minister of the Commonwealth of The Bahamas, Hubert Alexander Ingraham. We began to inform the public why this man, a former minister in the Pindling Cabinet, was fired.
We published on last week a letter written by Ingraham to Andrew Antippas, the former United States Chief Missions officer, who was stationed here in The Bahamas. Ingraham clearly stated in his letter written on September 21st, 1983 (https://www.bahamaspress.com/?p=5437), that he wished to carryout ESPIONAGE exercises in the country for a foreign government. Ingraham in it proved not only his readiness to commit espionage, but TREASON as well! Ingraham was indeed part of the Cabinet of The Bahamas, and had sworn to secrecy! But the letters now being expose by us clearly confirms that Ingraham had BROKEN LAWS OF THE BAHAMAS, particularly when it comes to ESPIONAGE AND TREASONOUS exercises.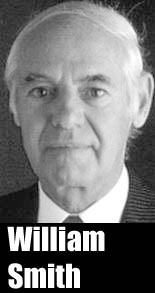 We wonder whether Marvin Dames or Ellison Greenslade can start their careers off by investigating these letters. Didn't Ingraham suggest he spent all that public money on both men to investigate Members of Parliament? Or did he send them to gain experience on how to arrest PLPs?
Today, Bahamas Press exposes a real case of ESPIONAGE! We shall see what they [DAMES AND GREENSLADE] will now do. We'll wait to see who in the PLP has the testicular fortitude to bring this matter up in the Parliament. And, we shall wait and see if Ingraham will respond to this charge and defend his now 'QUESTIONABLE LOYALTY' to country. All we say is this, the more he remains silent on the matter, the worse it will get! A word to the wise is sufficient!
Interestingly, Ingraham's urgent demands as a member of Pindling's Cabinet had reached the desk of the 74th Attorney General of the United States, William French Smith. The Harvard Law School graduate knew what Ingraham sought to do was a SERIOUS CRIME against his fellowmen! Indeed CRIMINAL, and so on December 14th, 1983, he responded to the 'DESPERATE TRAITOR'S' request: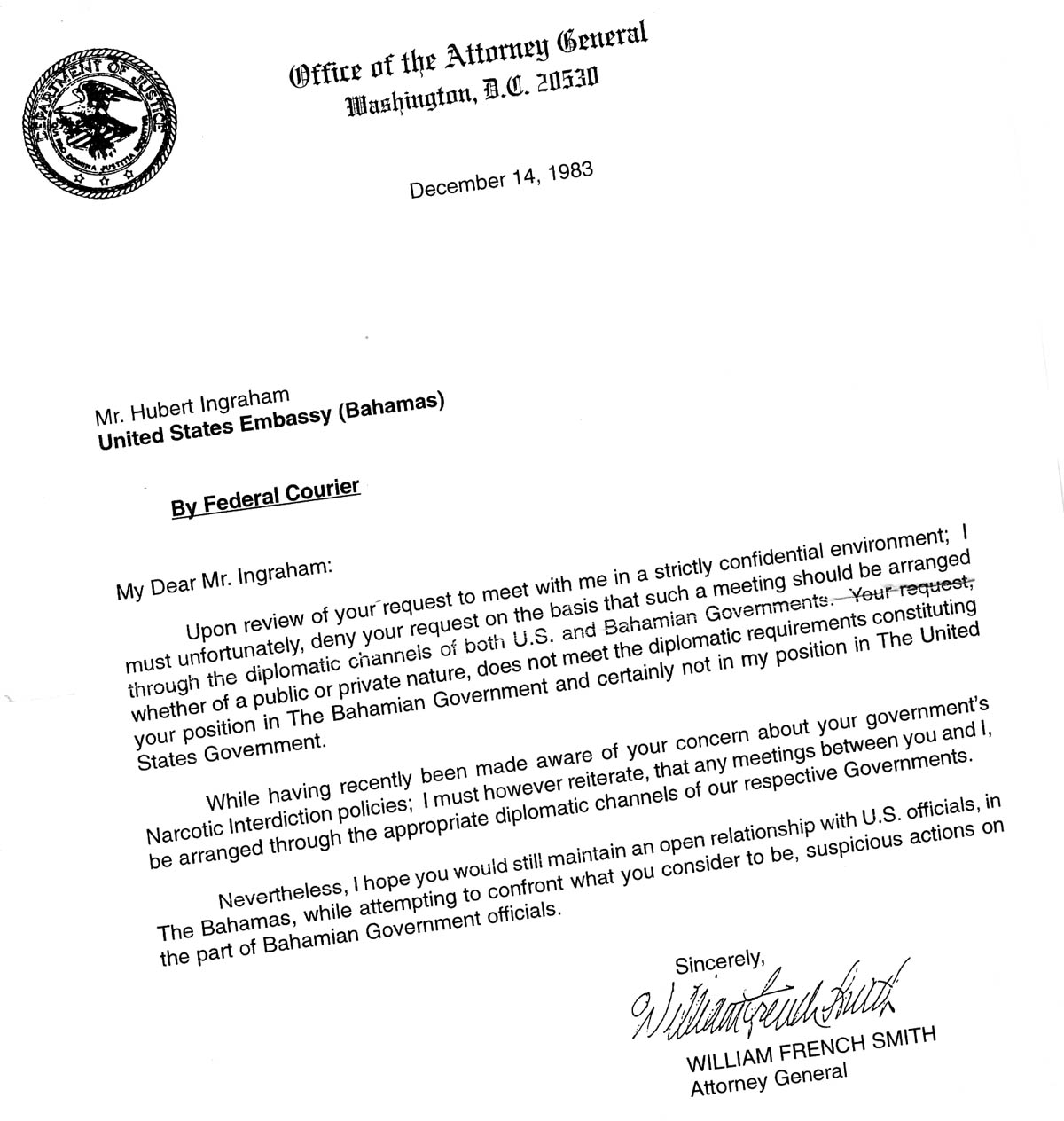 Most countries almost never tolerate SPIES! If we were like China, Ingraham would not be around today! If this was Cuba, we'll be looking for him like that former MP arrested for sexing a 'lil boy' on that tropical island [that former MP is still missing-in-action by the way]. And if this was America, no matter how many years would have passed, he [Ingraham] would now be heading to a federal court.
In fact, a strange case of alleged spying on behalf of Cuba recently popped up in Washington, raising fascinating questions about personality, motivation and Cuba's goals in espionage.
The case involves Kendall Myers, now retired from the State Department's intelligence branch, and his wife Gwendolyn, a former computer specialist at Riggs National Bank.
The couple is portrayed as enthusiastic converts to the cause of protecting Cuba against the United States and providing information to the Cuban government for years.
They were caught by a sting, in which an FBI agent posed as a Cuban operative and asked them to return to the fold after several years of avoiding spy activities.
Ingraham has always been 'ASHAME' of the Bahamian people, and nothing surprises us about him. Well, as we said before, we have his file. WHO WILL NOW QUESTION INGRAHAM'S LOYALTY TO THE BAHAMAS? BP has the SPINE to table it, who will take it from here?
Stay tuned Bahamas, STAY TUNED. We NEED CHANGE!