How come Bishop Curry was welcomed to speak in Cathedral and not a preacher in the town has protested?!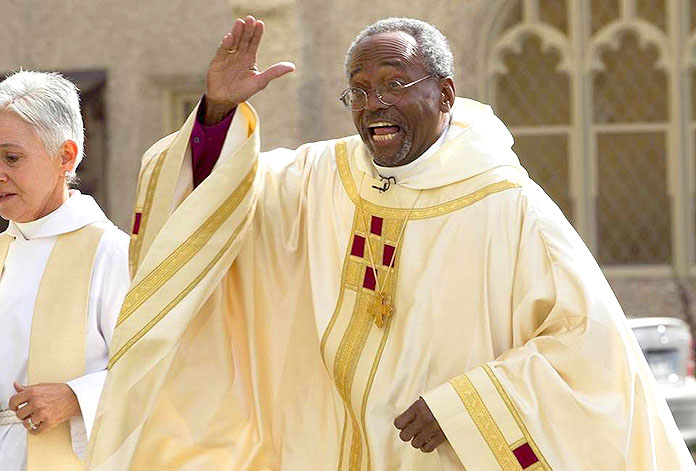 Nassau – All hell is about to break loose in the Anglican Church of the Bahamas as the guest preacher at Christ Church Cathedral in downtown Nassau tonight is the American Episcopal Bishop Michael Curry.
Bishop Curry is the first African-American to preside over the Episcopal Church in America. He is also pro LGBT! What in da hell is dis?
Bishop Curry was installed as leader of the US-based member of the Anglican Communion on November 1, 2015.
As Bishop in North Carolina, Curry was one of the first clergymen to allow same-sex marriages to be performed in churches there. The church ain't say nothing as the liturgy was changed to welcome gay marriages.
He has often drawn parallels between the black and LGBT civil rights movements. But it is our view that one has nothing to do with the other. ABSOLUTELY NOTHNG!
By some great mystery though Bishop Curry has now descended on the shores of the Bahamas to open his thoughts inside the MOTHER CHURCH – the Cathedral Church of the Bahamas – CHRIST CHURCH CATHEDRAL – and not one protest has been organized! NOT ONE! What does that say about the country?
Does the Anglican Church of the Bahamas now support SAME SEX MARRIAGES?
Will the Anglican Church of the Bahamas and its sister Diocese across the West Indies welcome this change to its liturgy to support SAME-SEX MARRIAGES?
Could this infection now spread across the wider Christian Church in the Bahamas?
Does the Church of the Bahamas believe that it must now change its liturgy to accommodate the shifts of the world?
Why are Priests, Deacons and Lay Persons all mute on this issue?
Where is the Christian Council on THIS? Everyone all quiet including those who oppose SAME SEX MARRIAGES! WELL WAIT!
We at Bahamas Press will remind the Church of this – that when Sodom and Gomorrah were destroyed NOT ONE PASTOR, NOT ONE DEACON, and not a lay person standing in church survived! Yinner better wakeup!
We report yinner decide!