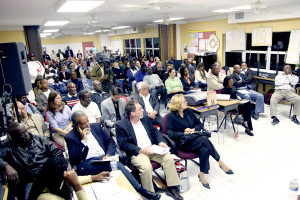 <<< There was standing room only at Friday's town meeting with Minister of the Environment Earl Deveaux on the Bimini Bay project.
BAILEY TOWN, Bimini – Minister of the Environment Earl Deveaux led a high-level team to Bimini for a town meeting last Friday to discuss concerns regarding the Bimini Bay project.
The construction of a hotel, golf course and additional dredging in the sensitive Bimini mangroves are among the concerns of residents.
The government commissioned the American firm Black and Veatch of Kansas to perform a compliance analysis of the development. It was determined that going forward, all activities would be in accordance with an environment management plan, said Mr Deveaux.
Following completion of the compliance analysis, the developer Gerardo Capo was presented with the findings, and the report was posted on the BEST Commission's website.
The compliance analysis was presented by Andrew Byers, Associate Vice President, Environmental Services, Black and Veatch. He was assisted in its preparation by aquatic biologist Dr Earnst Peebles.
The analysis identified a number of issues that need to be addressed. Primary among them was the lack of an environmental management plan for phase one, the requirement for an environmental impact assessment for future phases, and the need to have someone on site to supervise environmental issues.
Critical among the issues to be addressed, noted Minister Deveaux, are the feasibility of a golf course, preservation of the marine protected area and employment and immigration.
"The project is approved and we would like to see it go forward," said Mr Deveaux, "but we have some particular environmental issues that are required to be addressed."
In declaring the marine protected area Minister Deveaux said, "we want to ensure that the eco-system of Bimini is held intact and continues to contribute to this part of the Bahamas and the western Atlantic.
"So the golf course, the hotel and the additional dredging will have to take place in a way that doesn't have any negative impact on the marine protected area. We want to ensure also that there is oversight in management of the ongoing development."
Minister Deveaux said he was "very pleased" with the outcome of the meetings. "We made great progress in how we could inform public opinion going forward."
The multi-million-dollar Bimini Bay has "a vital role to play in the future of Bimini," he said. "We want to accommodate the development going forward based on the compliance analysis completed by Black and Veatch."