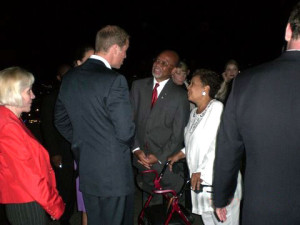 His Royal Highness the Duke of Cambridge, Prince William, while visiting Canada told The Bahamas High Commissioner to Canada His Excellency Michael Smith and his wife Suzanne, that he and his wife would like to visit The Bahamas.
They spoke while watching the fireworks launched to celebrate Canada Day. His Excellency, who is Dean of CARICOM High in Canada and his wife Suzanne were among a group of about 50 diplomats, government ministers and officials invited to the observation deck of the Ministry of Foreign Affairs for a dinner reception before observing the festivities.
The Duke told High Commissioner Smith that he had visited Nassau before, and asked if he could recommend a nice place to stay.
High Commissioner Smith was happy to oblige.