Oswald Brown
Oswald Brown Writes
By OSWALD T. BROWN
It is absolutely scandalous how ZNS is suppressing news about the demonstrations being carried out by Customs and Immigration officers to force Prime Minister Hubert "THE DICTATOR" Ingraham to meet with them to discuss outstanding issues related to their working conditions and other matters.
If you have Internet access and followed reports on Bahamas Press today, you would have seen video coverage of a vociferous demonstration by Customs and Immigrations officers outside the arrival terminal at Lynden Pindling International Airport (LPIA), which attracted a heavy police presence, presumably to maintain law and order.
Yet on tonight's ZNS-TV news, not one inch of footage of the demonstration was shown. Instead, the reporter chose focus his story on the fact that Immigration stations at the airport were manned by members of the Bahamas Defense Force. He did not even explain why Defense Force personnel had to take over control of the Immigration stations.
The reason, of course, was because the Immigration officers had left their stations and were outside protesting.
This was the real story, but to report the "real story," he would have had to show footage of the demonstration, and he was more likely than not under strict orders not to report on the demonstration itself.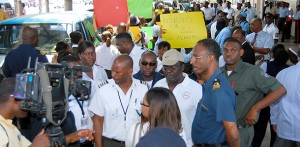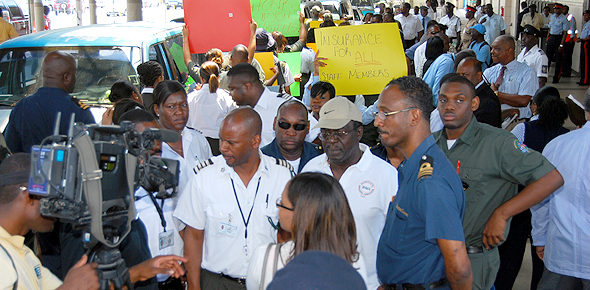 As a matter of fact, on Friday morning's ZNS Radio broadcast, there was absolutely no mention at all about Thursday's massive demonstration in downtown Nassau. That demonstration was reported on Thursday night's news, but since it was an ongoing protest, good news reporting dictated that it should have been an item on the next morning's news.
What I really suspect is that ZNS reporters are under strict orders from Broadcasting Corporation of The Bahamas (BCB) Chairman Michael Moss to downplay the events surrounding the current Customs and Immigration dispute.
When it comes to what is broadcast over ZNS, in my view Moss is Hubert Ingraham's equivalent of Adolf Hitler's Propaganda Minister Joseph Goebbels. To be sure, there is indeed some evidence that Ingraham has dictatorial ambitions that makes this likelihood very dangerous for the preservation of democracy in The Bahamas.
Be that as it may, it is quite obvious that the Customs and Immigration protests have created a very serious crisis in the country; a crisis that a leader who is interested in doing what is in the best interest of the country would consider top priority in seeking a solution to it.
Yet Hubert "THE DICTATOR" Ingraham persists in being as stubborn as a mule in refusing to sit down with the principals involved in this dispute to try and reach "common ground" on the issues that are in dispute.
This is not the sort of behavior that citizens of The Bahamas should expect out of their Prime Minister. But the truth of the matter is that Hubert Ingraham simply does not care what the Bahamian people think about his behavior.
You will recall that at the height of the economic crisis in June of 2010, Ingraham, who is the Minister of Finance, decided to go on an extended visit to South Africa to party with Atlantis boss Sol Kerzner during the World Cup.
And during the very troubling dengue fever outbreak in the country last year, he went on a series of "vacations."
Of course, the giveaway of BTC to Cable & Wireless is still one of those decisions that many Bahamians will never forgive him for, and will most certainly register their disgust when they go to the polls in the upcoming general election.
Nonetheless, given the implications of what a protracted demonstration by Customs and Immigration officers can have on tourism, the country's number one industry, it is incumbent on the Prime Minister to put his "stubbornness" on hold and meet with the principals involved in this dispute and come up with solutions to the issues involved posthaste.
–ends–