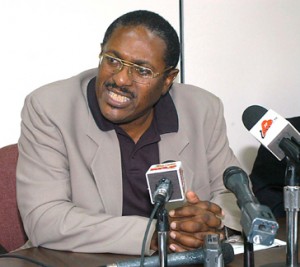 PRESS STATEMENT
BRADLEY B ROBERTS
CHAIRMAN, PROGRESSIVE LIBERAL PARTY
Saturday February 25, 2012
"BAHAMIANS, ENJOY THE STADIUM OPENING: YOU PAID FOR IT"
Chairman of the Progressive Liberal Party Bradley B Roberts said today that Bahamians should enjoy every minute of the stadium opening, pointing out it was their money paying for the celebration.
"Bahamians might not have chosen to spend hundreds of thousands of dollars on a party when so many of our people are in deep trouble and could use some help.  But, as usual, the FNM didn't consult with the people.  So Bahamians might as well celebrate the new stadium – it's our money they're spending for the party."
Roberts said that the Progressive Liberal Party was proud that Perry Christie had negotiated for the stadium.  "We have a stadium today because of Perry Christie.  It was his idea, his negotiations, and his plan for improvements."
Roberts saluted the legendary Tom Robinson, for whom the stadium was named, noting that Robinson had won the first two medals for The Bahamas in Commonwealth Games history, and competed for The Bahamas on the world stage, including in four Olympic games.
"I believe Bahamians can compete on the world stage in all areas, including athletics, when they are given opportunities and support.  So I'm very pleased a new generation of Bahamian athletes will have the facility they deserve in which to train and display their talents."
Noting the timing of the stadium opening, just prior to elections, Roberts expressed confidence that Bahamians would still remember years of FNM mismanagement. "Underneath the big show, the FNM is a party that cannot keep Bahamians safe, a party which never puts Bahamians first, and a party which has no clue how to create jobs or invest in people.  I think Bahamians know the difference between a party which can put on a big show and a party which knows how to govern."
Roberts pointed to the ways in which FNM policies had deepened the impact of the recession: "The FNM raised taxes on Bahamians when other governments were reducing tax burdens to help people through tough times.  The FNM hired foreigners — again and again — when Bahamians needed jobs.  The FNM delayed projects and contracts only because they were started by the PLP — they held up projects for political reasons – when the local economy needed the investment and people needed the jobs.  They made the recession so much worse.  The middle class has lost ground — people are losing their homes, can't keep the lights on.  Families are struggling with the basics.  Bahamians will celebrate the stadium opening, thank both the PLP and the FNM for the new stadium, and then vote for change and a new direction — they're going to vote gold this year."