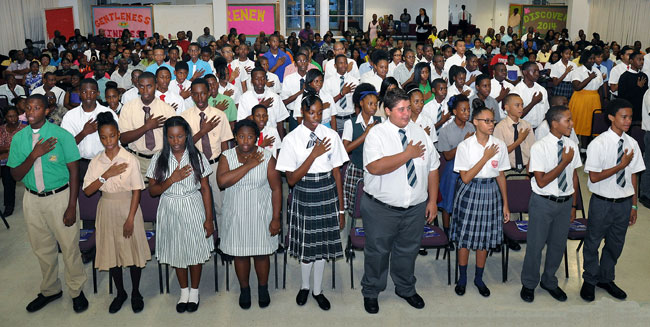 Nassau, Bahamas – The Bahamas will gain additional engineers, electricians, architects and computer programmers in the near future, as one hundred twenty-five students were inducted into the Technical Cadet Corps Programme (TCCP) on Monday, 25th August, 2014.
The seventy-three males and fifty-two females from various public and private schools pledged to do their best to complete the programme and assist their fellow cadets when necessary.
Representatives from sponsoring corporations Bahamas Electricity Corporation, the Water and Sewerage Corporation, Bahamas Telecommunications Company and the Broadcasting Corporation of The Bahamas attended the induction service.
Undersecretary in the Ministry of Education, Science and Technology, Mrs. Angela Pratt-Rolle gave the keynote address on behalf of the Minister, the Honourable Jerome Fitzgerald.
Undersecretary Pratt-Rolle commended the corporations for their support of TCCP for more than two decades. She encouraged the new cadets to remain focused and work towards the goal of completing the programme.
She noted that the Minister of Education, Science and Technology, the Honourable Jerome Fitzgerald was concerned that the statistics reflected that out of the approximately 120 students taken into the programme in Year One, less than ninety make it to Year Three.
"This matter has to be addressed, and wherever possible, intervention provided for students who are serious about completing the programme", said Mrs. Pratt-Rolle.
The Undersecretary urged parents to support their children throughout the three years so as to will increase their chances of graduating in 2017.