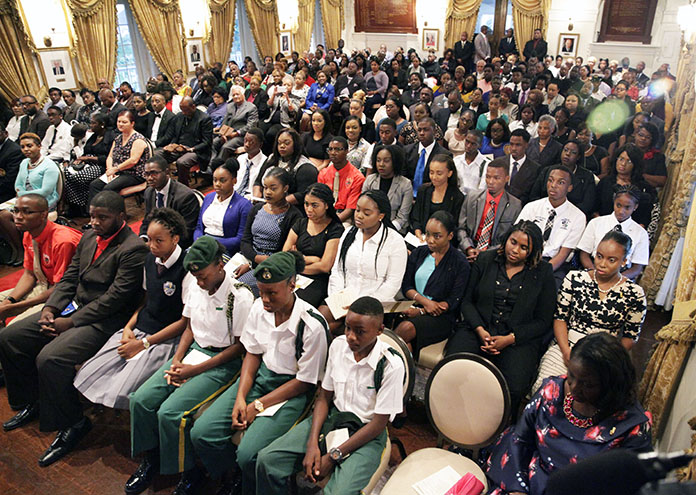 NASSAU, The Bahamas – The Ministry of Youth, Sports and Culture held a National Youth Awards Nominee Medal Presentation Ceremony at Government House, October 11, 2017 during which the Ministry honoured 156 outstanding persons of the community.
Governor General Her Excellency Dame Marguerite, as patron, made the presentations, and Minister of Youth, Sports and Culture the Hon. Michael Pintard gave words of encouragement and inspiration to the young people, nominated for excellence in various categories of society achievement and service.
'National Youth Awards' was first implemented by the Ministry of Youth, Sports and Culture in October 2014. Each year since, Her Excellency Dame Marguerite Pindling, Governor-General, has served as Patron of the distinguished honour presentations, and at the conclusion of yesterday's ceremony presented approximately 538 medals to exceptional, well-deserving young Bahamians.
Added to the collection of honours this year — is the 'Living Legend Award' for Youth Practitioners who have given exemplary service well beyond the age of retirement. The 2017 recipient is Captain Fernley Palmer, MBE, JP, who served for more than 60 years as a member and leader in The Bahamas Boys Brigade.
The Ministry pays posthumous tribute to Lionel R. S. Elliott Sr., former Youth Development official in the Division of Youth and longstanding Executive Director and Programme Manager of Junior Achievement Bahamas.
National Youth Awards winners will receive their trophies at the Gala Awards and BTC Cash Prize Presentations Ceremony at Atlantis, Paradise Island, on Wednesday, October 25, 2017 at 7:00 p.m.