Bahamian wrecker had to dive in the pool to pull the 2017 Mercedes S400 out the pool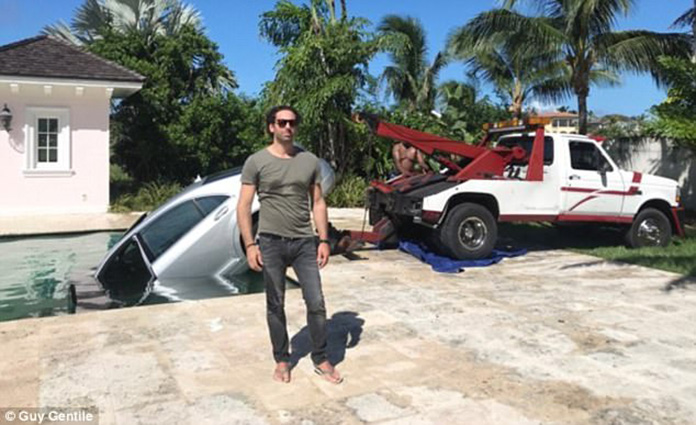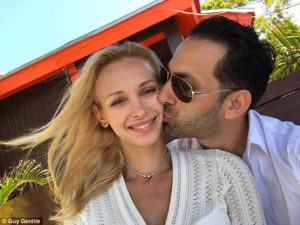 Nassau – The jilted girlfriend of a hot-shot Wall Street banker made sure the money man got exactly what he deserved after she drove his Mercedes into a pool following their breakup.
Russian-born model Kristina Kuchma, 24, wanted to send a message loud and clear to her now ex-boyfriend, business executive Guy Gentile, that she was not happy how things turned out between the two.
Kuchma, who claims Gentile promised to finance her own business, became furious over the weekend when the New York high frequency trading expert broke off their relationship while vacationing in the Bahamas.
'Lier!' Kuchma texted him in broken English soon after cutting ties, according to The New York Post.
'You told me you will help me to start a business! That were your words! Now you want to be an investor??? Well investor I have a surprise for you on a backyard, start with that investment idea first.'
Gentile, 41, who became an FBI informant to escape federal charges after getting caught in a Wall Street pump-and-dump scheme in 2007, came home to find his Mercedes S400 parked inside the pool.
The base price for a 2017 Mercedes S400 is listed just over $100,000.
'My heart dropped because of [fears she was inside]. I didn't care about the car at that moment,' he said.
'But after I realized she wasn't in it, then I start to get pissed off that she would pull something like this after everything I've done for her.
'I dumped her. She dumped my car.'
A request for comment by the Post was not returned by Kuchma.
According to Gentile, the two were supposed to have a casual dinner together at a local restaurant.
That is until Kuchma announced that she was 'pregnant,' but not with a child, as Gentile came to find out, but 'with an idea.'
Apparently bit with the entrepreneurial bug, Kuchma pitched Gentile an idea to start a marketing business. All she would need is a gift of $50,000, according to the banker.
'I said, 'You know what? You got the wrong guy,' Gentile told the Post.
'If you want a guy who's going to hand you money for nothing, you got the wrong guy,' and promptly ended their year-and-a-half long relationship.
Evidently, Kuchma didn't take to kindly to the news, throwing a cup of hot green tea in his face.
'It was really disrespectful to do that at a restaurant I dine at a lot in front of a good friend of mine,' he lamented.
The Russian model then stormed off, but not before swiping the keys to his ride.
According to the Post, police were called to the scene of the incident, while a crew spent a little over four hours getting the vehicle out of the water.
'I really loved this girl and would have married her,' he said, 'but she went too far!'
Now what is interesting about this story is how only Bahamas Press has it. Not one media outlet in the country or the scores of Social Media gurus. For BP this is an even bigger news.
We report yinner decide!