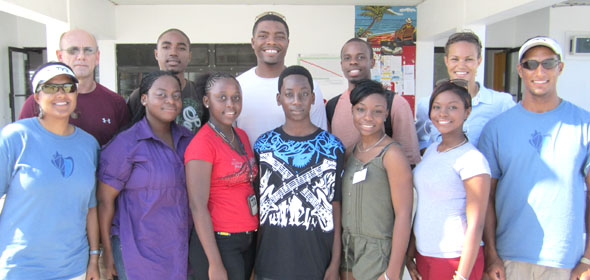 Eleuthera, Bahamas –– Erin Ferguson, Host and Executive Producer of the Number 1 Rated Television show in the Bahamas, Citizens' Review, traveled to South Eleuthera to shoot 2 shows at the Cape Eleuthera Institute, and the Island School. The trip was the reward for the recipients of the Citizens of the Year Award, an annual award given by Citizens Review. The awards were presented to High School Graduates in New Providence and Grand Bahama whom the Principals, Guidance Counselors and Teacher thought were living by example the 3 tenants of the Citizens' Review TV show, which are INDEPENDENT, ACCURATE AND BOLD.
The students from Grand Bahama are Keiannah Charlton, Eight Mile Rock High School, Anjelica Maycock, Jack Hayward High School, Charles Rose, Head Boy, Jack Hayward High School, and Charles Harvey, Jack Hayward High School. New Providence students are Sloan Smith, R.M. Bailey High School, Denielle Miller, C.V. Bethel High School.
The trip was fully sponsored by Security Systems International, and SSI CEO Craig Cates who is a South Eleuthera Native from Rock Sound. Also, the trophies for the Citizens' of the Year awards were sponsored by Arthur McDonald, President of Le Bleu Water, Celsius, and Natures Pearl.
Mr. Cates met the Group at the Airport in Rock Sound and expressed to them how excited he was to see them come ready and willing to experience what the Island School and South Eleuthera had to offer.
The student expressed to Mr. Cates and Mr. Ferguson how happy they and their parents were, to have gotten this opportunity to travel with the show Citizens' Review, be on TV and experience the Island School after they heard so many great things about the school.
Accompanying the group at the invitation of Mr. Ferguson and Citizens' Review team was the CARICOM Youth Ambassador for the Bahamas, Demathio Forbes, and Bahamian Olympic Swimmer and recent Pan-Am Bronze Medalist and CAC Silver Medalist Alana Dillette.
Ambassador Forbes commented that he thought what Citizens' Review has accomplished as a Television show in the Bahamas is phenomenal, and he was more than happy to accompany the group of young people to the Island School. Forbes thought that it was important for he himself to experience the different systems of living sustainably at the Island School, and it could help to inform the policy he advances at the CARICM level in meetings with the other countries. Forbes was grateful to both Craig Cates of SSI and Erin Ferguson for making this experience possible for the students.
Alana Dillette commented that she is an avid fan of the show Citizens' Review and she also pointed out that she has been featured on the show twice as Citizen of the Week along with her fellow swimming colleagues such as Arianna Vanderpool-Wallace, Alicia Lightbourne, and Nikia Deveaux after receiving the Pan-Am Bronze Medal.  She went on to say, Mr. Ferguson also congratulated Arianna and I as Citizens of the Week after winning Gold and Silver in the CAC games. I think Erin is doing a great job with his show, and I was there first hand to witness on this trip how the student are really inspired by him and what he has been able to accomplish as a young Bahamian. I am always able to watch the show even though I am doing my Masters studies at Auburn University, and I travel the world swimming with my recent trips to both France and Puerto Rico, but Citizens' Review is always available on face book or on the website, so I am always up to date with what's going on at home, and as you can imagine, those of us who are not able to be home right now, really appreciate that Citizens' review provides us with access to information at home.
Chris Maxey, Founder of the Island School and Carla Crosgriff, Managing Director of Cape Eleuthera Institute both commented that they thought it was great that Citizens' Review sought to bring the top young Bahamian students to share in the Island School experience, it has changed many lives before and have gotten many students to pursue careers in these areas, so we invite all to come and we really thank SSI and Citizens' Review for taking a keen interest in what the Island School is doing to help the Bahamas.
Chris Maxey also commented that he thought Ferguson does an excellent job on his show of being honest and to the point, and that is to really be respected. We never realized that Erin would be so embracing of the work we do here, and we are excited to watch along with everyone else as they enjoy his experience here on his shows that he shot while at the Island School.
When asked about the trip Ferguson said, "Before my Father died we had plans as Bahamians to invest in Aquaculture and sustainability, and my brother Eldin III and I still plan to do so. There is a special place in my heart for institutions like the Island School and the Cape Eleuthera Institute who have come to the Bahamas and fell in love with our country and are now in the process of helping us to save our country. We have to be grateful that our country is such a beautiful place and we must work towards protecting it ourselves. The Cape Eleuthera Institute is currently conducting research and studies on areas vital to the survival of the Oceans Surrounding the Bahamas as we know it, including Flats Ecology, Aquaponics, Aquaculture, Energy Independence, Biodiesel, Permaculture, Water Conservation, Food Security, and many other areas. We have to begin to embrace these ideas if we want to grow as a country, so SSI and Citizens' Review partnered to make certain that students get exposed to these systems and become aware of what is possible, because they are the future leaders of the Bahamas.
Citizens' Review's will be airing a two (2) part special report on the Cape Eleuthera Institute and the Island School premiering on Thursday August 12, 2010 at 9pm on JCN Channel 14 (replay on Tuesday August 17 at 9pm) and also Part 2onThursday August 19, 2010 (replay on Tuesday August 24 at 9pm).